Resources (Holocaust and Genocide Studies M.A.)
The program benefits substantially from Kean's University's commitment to an education for the 21st century in tandem with a renewed public commitment to developing new strategies for interpreting and addressing the worldwide commission of crimes against humanity. It derives inspiration from the university's –
The Human Rights Institute and its noteworthy conferences, speaker series, and exhibits, including international conferences on "Darfur: The First Genocide of the 21st Century," "Slavery in the 21st Century," and "Combating Hatred";
Premiere Stages Human Rights Initiative, an annual series of dramatic productions exploring genocide and other human rights violations;
The Holocaust Resource Center, a teacher-training institute, repository of documentary sources, and, for 30 years, a consummate program for visually recording witness accounts in affiliation with the United States Memorial Museum, in Washington, DC, and The Hebrew University, in Jerusalem;
The Faculty Seminar in Comparative Cultures, a monthly colloquy exploring annual themes, including "Human Rights and Reparations," "Violence and the State," "Representations of Genocide and Resistance," "Forgiveness: Political Considerations," "The Bystander," "Age of the Witness," and, in 2011-12, the National Endowment for the Humanities award-related topic "Just War: Theories and Case Studies." The seminar publishes the e-book series, Comparative Cultures
Undergraduate programs in Africana Studies, Latin American Studies, Jewish Studies, and Women's Studies, as well as the popular undergraduate course, The Holocaust, Genocide, and Modern Humanity;
The program also takes advantage of the university's proximity to New York City – home of human rights organizations, NGOs, world-class museums archives, libraries, and other documentary repositories, and the United Nations.
FACULTY RESEARCH
MA Program Director Dr. Dennis Klein presents the Annual Lorry I. Lokey lecture "Victims of Proximate Assault: Re-Reading Post-Traumatic Testimonies" at Portland State University.
Published by Pearson in January 2012, From Slavery to 9/11: Readings in the Sociology and Social Psychology of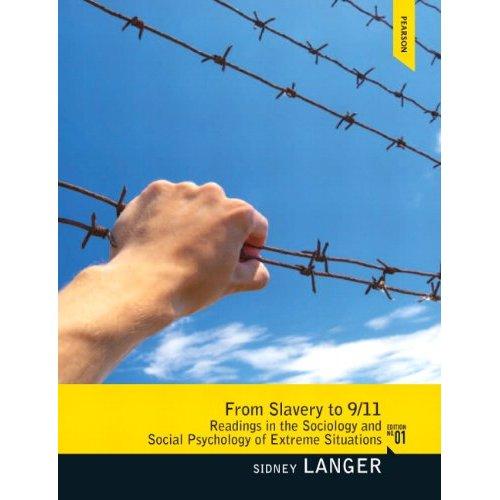 Extreme Situations by Dr. Sidney Langer, member of the MA in Holocaust and Genocide studies graduate faculty, explores the social structure of institutions and extreme situations, and survival and coping mechanisms used by the people in response. The text includes standard source material, as well as contemporary and classic readings. The first-person narratives of coping and survival include oral histories that highlight the unique experiences of women in extreme situations.  The topics include many defining events of the 19th and 20th centuries, as well as the beginning of the 21st century, including institutionalized slavery, genocidal atrocities and the Holocaust, September 11, 2001, and Hurricane Katrina.