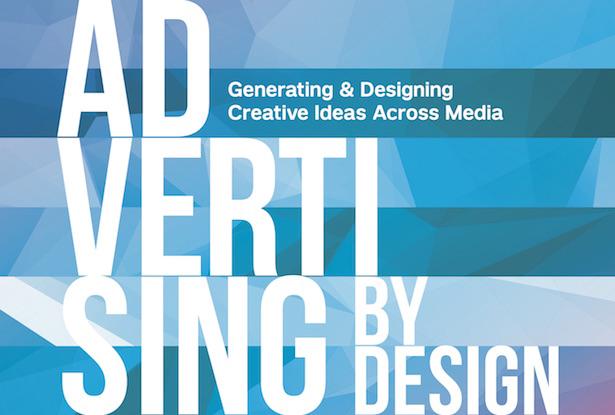 The newly released third edition of Michael Graves College professor Robin Landa's book Advertising by Design equips students with tools for success in the digital age. Advertising by Design is the most comprehensive, contemporary guide to concept generation and design for advertising, covering everything from unique branded content to social media.
"In light of recent rapid changes in the advertising discipline, I provided new content in the 3rd edition to best inform advertising design education," said Landa. 
Landa will open the Michael Graves College Caffienated Book series with a talk on Advertising by Design on Tuesday, December 6 at 7 p.m. in the Barnes & Noble bookstore located at 1040 Morris Ave. in Union on the first floor of Kean's Green Lane Academic building.
Advertising By Design provides a real-world introduction to advertising design concepts for today's industry. Step-by-step instructions guide readers through design fundamentals. Interviews with leading creative directors provide a glimpse into the idea generation process and case studies of successful ads highlight keys to designing effective advertisements.
Master the fundamentals of advertising design for a range of media channels
Integrate print, web, social media, and more to convey an engaging story
Jumpstart your creativity with lessons from top creative directors
Build your knowledge base around the reality of modern advertising
The new edition has been thoroughly updated to reflect the industry's shift from print and TV to fully integrated transmedia campaigns, providing valuable insights into a broad range of media channels. New concepts and strategies for social media, digital media, pull marketing, creative content and more are discussed in-depth. Instructional materials including PowerPoint slides, quizzes, sample exercises, projects, links to video and other online resources, bring the book into the classroom.
Robin Landa has written 23 published books about creativity, advertising, branding, graphic design and drawing. The Carnegie Foundation counts her among the "Great Teachers of Our Time." She has won numerous awards, including awards from the National Society of Arts and Letters, the National League of Pen Women, Creativity, the ADCNJ, Graphic Design USA, three Kean University Presidential Excellence Awards for Scholarship and the Kean University Human Rights Educator Award. Advertising by Design is published by John Wiley & Sons.  To learn more visit Wiley.com.
Tagged