Amid COVID-19 Sickness and Loss, Kean Student Graduates with Honors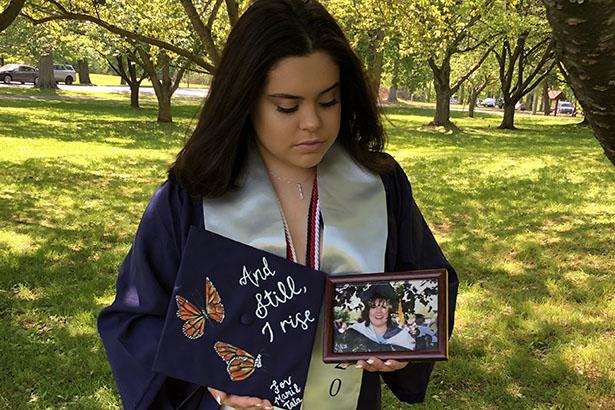 Daniela Derius-Rodriguez recently lost her mother and grandfather to COVID-19, but the Kean senior pushed through sorrow and her own bout with the illness to graduate with top honors, just as her mother would have wanted.
"It was a goal of mine and my mother for me to graduate summa cum laude. She was really proud of me," Derius-Rodriguez said. "When she passed away, I was not going to let her down. I had a goal to finish my last semester strong, and I did just that. I wanted to make her proud."
Derius-Rodriguez's mother, Maria Rodriguez-Derius, was also a Kean graduate, earning her bachelor's degree in bilingual elementary education in 1997.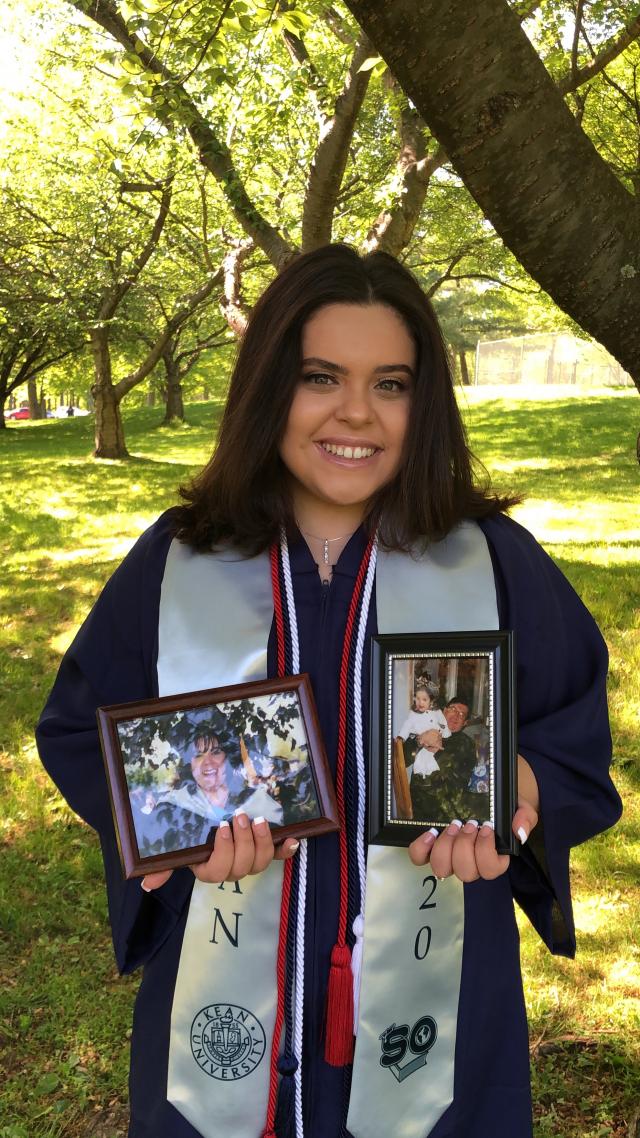 The family's nightmare began in March when COVID-19 first started to spread among the entire household. Her grandfather, Francisco Rodriguez — whom Derius-Rodriguez says was healthy and had no underlying health conditions — died of COVID-19 on March 29 while his daughter was also hospitalized and on a ventilator. She died about three weeks later.
"She had no idea her own father passed away," said Derius-Rodriguez, a communication major from Rahway. "My father, brother, grandmother and I were all quarantined at home. There was nothing we could do. The people we so desperately wanted to hug were not able to see us. After being disconnected from the ventilator for a week, my mother seemed to be getting better. We even FaceTimed her. We told her we couldn't wait for her to come home. The next morning, the doctors called and told us she didn't make it. My mother passed away on April 21." 
Derius-Rodriguez suffered only mild symptoms of the illness. As she was navigating the tragic consequences of COVID-19 for her family, she was enrolled in Kean's Death in Perspective class taught by Assistant Professor Norma Bowe, Ph.D.
"At first, it was a little confusing, going through what I went through and learning about death at the same time. It felt dark, but then I realized that it was a good thing. I learned about grieving while grieving. I learned that it was okay to feel a certain way," she said. "And, I learned overall that death happens, and we can't let it get to us too much. My peers in the class also gave me comfort and offered so much support."
While Derius-Rodriguez was strong and resilient, other students showered her with compassion and grace, Bowe said. "As a professor, I felt incredibly proud of our Kean students during such a difficult time for a classmate," she said.
Derius-Rodriguez says she has good and bad days, and lives by the motto, "Take it day by day." She is focused on her future.
An internship in public relations and social media at the Elizabeth Destination Marketing Organization, which she secured at a Kean internship fair, grew into a permanent job at the nonprofit. She currently works as a communication and marketing assistant. 
"Daniela was an exemplary student who also took on leadership roles in Kean's Public Relations Student Society of America chapter," said Jeremiah Sullivan, executive director of the School of Communication, Media and Journalism. "She radiates tenacity, determination and grace with everything she does. I am confident that no matter what she chooses to do going forward, she'll do so with spirit and success."
Graduating after an emotionally wrenching final semester, Derius-Rodriguez recognizes the importance of new beginnings.
"I feel so proud of myself," she said. "I worked hard for this degree, and I'm excited to see what is to come. Even though I endured hardships along the way, it only made me stronger and more determined. I have the rest of my life ahead of me, and my grandfather and mother will forever be in my heart."