An Anniversary Year for the Arts at Kean University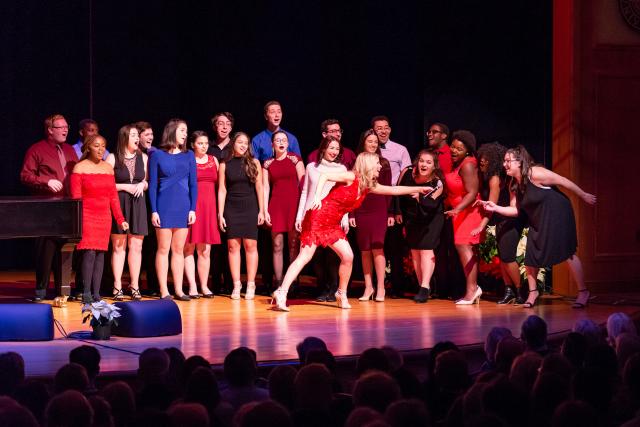 Kean University's arts programming is celebrating two milestones this year as Kean Stage enters its 10th anniversary season and Premiere Stages marks its 15th anniversary.
Kean Stage, which brings world-renowned performers from Broadway, professional theatre, dance and music to Kean venues, opened the 2019-2020 season and marked its first decade with two performances at Enlow Hall by music icon and Rock & Roll Hall of Fame inductee Art Garfunkel.
"I love being here, and I love all the stages," Garfunkel told the audience at the season-opening concert on Saturday, September 21.
Premiere Stages, meanwhile, continued its mission of educating and offering professional opportunities to Kean students by staging the play Yasmina's Necklace, the story of an Iraqi refugee, at the Bauer Boucher Theatre Center on campus.
Learn more about Premiere Stages.
The Gene and Shelley Enlow Recital Hall on Kean's East Campus, a state-of-the-art, 332-seat venue with unsurpassed acoustics, opened in October 2009 and ushered in Kean Stage. Part of the vision of Kean President Dawood Farahi, Ph.D., to develop Kean as a cultural hub in the region, Kean Stage — which began with a concert by cabaret performer Michael Feinstein — brought together the arts programming that had long been a tradition at Kean.
Each year since, an eclectic mix of artists — Tony-award winners, internationally acclaimed musicians, dance troupes, children's theatre companies and more — have performed at Enlow and other Kean theatres. Reflecting the diversity of the arts as well as Kean's campus and community, performers have included Patti LuPone, Billy Porter and Kelli O'Hara from Broadway; the China Traditional Orchestra Anhui; Lady Smith Black Mambazo; John Legend; and the Vienna Boys Choir.
Music and theatre students at Kean often have opportunities to share the stage with the professionals or learn from them in master classes.
"I was proud to bring Patti LuPone to Kean Stage in 2016," said Steve Cochran, Kean Stage manager. "It was the third week of classes, and we had an audition to have students sing with her on stage. Freshmen who had just graduated from high school and were in their first weeks of college got to sing five songs with a Broadway legend. Students still talk about it."
Educating Kean students and offering professional opportunities is also key to Premiere Stages' mission. The professional theatre company in residence at Kean produces new, topical plays at the Bauer Boucher Theatre Center. Each is a premiere - in New Jersey, on the east coast, or in the nation - and allows Kean students to earn credits toward eligibility to join the professional theatre union, Actors' Equity Association.
"Premiere Stages is one of only a handful of professional theatres in the nation that affords professional credits toward membership with Actors' Equity Association, building a bridge to the professional world for students," said John J. Wooten, director of arts programming at Kean. "As we grow, so do the opportunities for Kean's students."
Premiere Stages also partners with Liberty Hall Museum to commission and produce a play on New Jersey history every two years. This year's production, Robey, about Paul Robeson's groundbreaking valedictory address at Rutgers University, sold out six weeks before its October 18 premiere. 
Other Premiere Stages' programs include an annual festival for playwrights from New Jersey, New York, Pennsylvania, Connecticut and Delaware, in which two plays are produced, either in a staged reading or a full production. The theatre also conducts playwriting residencies in schools and has a "legacy program" in nursing homes, encouraging residents to write and record their life stories, with some staged for residents.
For both Kean Stage and Premiere Stages, future plans include building more partnerships on and off campus, and expanding programs to further entertain and enlighten audiences.
Cochran, of Kean Stage, said he hopes to include Kean students when  Mandy Harvey, an artist who lost her hearing at the age of 18 and was a finalist on America's Got Talent, appears at Enlow on February 22.
"I hope to work with Kean's School of Communication Disorders and Deafness to create an American Sign Language choir to sing with her," he said. "That would be beautiful, and help further build awareness and our diverse reach."