Author James McBride Urges Kean Audience to 'Move Your Heart to a Better Place'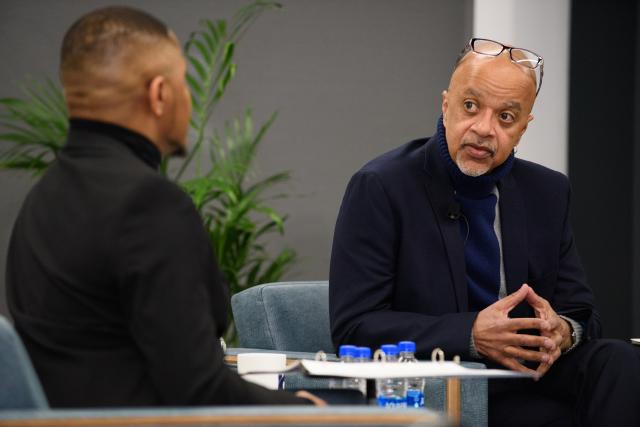 Award-winning author James McBride lectured at Kean as part of the University's Black History Month celebration, telling the crowd that those who don't understand the strength of diversity will be left behind.
McBride spoke about identity and inclusion as part of the President's Distinguished Lecture Series on Thursday, February 9. He also touted the importance of a liberal arts education, shared insight into his writing process, and urged students to be kind to others.
"As you're learning to make choices, make choices that move your heart to a better place," he said. "I am for the humanity of people. I believe what connects us is stronger than anything else."
A National Book Award winner for his novel The Good Lord Bird, McBride is also the author of a best-selling memoir, The Color of Water, and numerous other books and screenplays. 
McBride said he was delighted to speak at Kean about diversity and inclusion.
"If you want to be a decision maker, you have to be a person with ideas," he said.
Kean's Liberty Hall Academic Center Exhibition Hall was packed as students, faculty, alumni and members of the community came for the lecture, as well as a reception and art exhibit by artist Sayaka Ganz.
Actor and arts administrator Deonté Griffin-Quick '18, a Kean theatre and communication graduate who has performed at venues from the Apollo Theater to Kean's Premiere Stages, moderated the lecture.
McBride discussed his varied career, which has included working as a journalist and a jazz musician. 
"I started to want to change the world, so I decided I would become a journalist," he said. He wrote for the Boston Globe and Washington Post, then decided he didn't want to become a "cynical" reporter. He moved to New York, found work as a saxophonist, then began writing his own work.
"As seasoning for writing, journalism is the best training," he said, adding that as a writer, "our job is to pluck stories out of the air and make them happen."
For students and others who would like to follow his footsteps, McBride said "start writing now" and be prepared for failure – and success.
"Start where you are. Start writing right now," he said. "I've always done what I've wanted to do, and I've never been sorry. I hope you do that."
An adjunct professor at Delaware State University Online and the director of a nonprofit in New York, Charise Breeden-Balaam, Ed.D., said she wanted to see McBride to "listen to his words of wisdom" and impart them to her students.
She said she especially liked his advice to read. She was also inspired by McBride's impact through his work.
"To see that gives me more drive, because now I feel like the seeds that I have planted, I'm waiting for them to harvest in my students," she said.
Sophomore roommates Samantha Williams, of Trenton, and Makenzie Kuntz, of Linden, attended the lecture together. 
"I liked what he had to say about failing because I think a big part of college is, as he said, failing and learning how to do things on your own," Williams said.
McBride's message also hit home for Kuntz, who said she tries to take advantage of the lectures and other enrichment programs Kean offers throughout the year. 
"He said, 'Make choices that move your heart to a better place,' and that's something I try to live by every day in my life," she said. "I know the people whom they bring here are leaders that I can learn from and try to apply what they say into the situations that I may encounter."