Award-winning Author Elizabeth Acevedo Gives Book Reading at Kean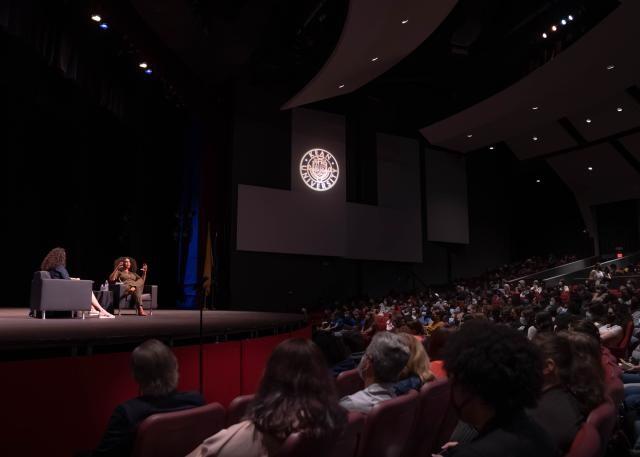 National Book Award winner Elizabeth Acevedo met with students and faculty at Kean University last week for a reading and discussion of her novel The Poet X as part of Kean's first Common Read. 
A New York Times bestseller, The Poet X is written in free verse, and tells the story of Dominican teenage poet Xiomara, who lives in Harlem and writes about challenges in her life such as family, race and sexuality.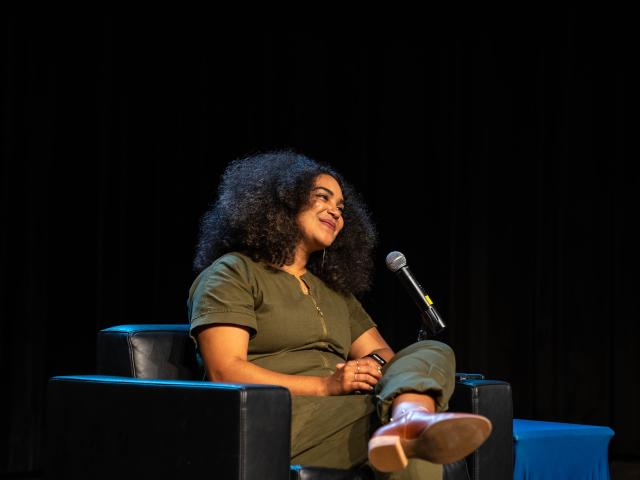 Kean first-year students read the book together during the Common Read, a project created to build community and recognize Hispanic Heritage Month.
"We were excited to begin the tradition of the Common Read at Kean University and welcome Elizabeth Acevedo to our campus," said Kean President Lamont O. Repollet, Ed.D. "The Poet X is a perfect choice for Kean students as we continue to embrace diversity and equity on our campus, and hearing directly from the author is inspirational for our students."
The Common Read was initiated by the Kean's Office of Diversity, Equity and Inclusion and College of Liberal Arts, and co-sponsored by the Human Rights Institute. All first-year students were assigned to read and discuss a portion of the book, and some classes read the entire book.
Acevedo spent an afternoon at Kean, meeting with students for a question-and-answer session at the Little Theatre, then holding a reading for the entire campus in Wilkins Theatre.
She shared insight about her teenage protagonist, saying some of the book came from Acevedo's own journals as a teenager. She also explained why she ended the novel on a hopeful note.
"I took a lot of flak about being too upbeat," she said. "But I'm not interested in putting young women of color in stories where they don't have any hope."
A National Poetry Slam winner, Acevedo also spoke about the hard work and multiple revisions that go into her writing. "Every writer never feels something is done," she said. 
Acevedo's debut novel, The Poet X won the National Book Award, the Carnegie Medal and numerous other prizes.
Professor Mia Zamora, Ph.D., director of the Master of Arts in Writing Studies program and the Kean University Writing Project, led the faculty book selection committee.
"This book is perfect for opening up multiple conversations about racial and social justice," she said. "The Common Read helps us grow our shared understanding of our lives. When we read together, we imagine new worlds together."
Zamora and lecturer Abrianna Jette, Ph.D., from the School of English Studies, moderated the Poet X events.
Acting Dean of the College of Liberal Arts Jonathan Mercantini, Ph.D., said Kean plans another Common Read next year. 
"It was powerful to hear from students how The Poet X was the first book they read where they could see themselves as the character in the book," he said. "It was truly equity in action."
Junior Valerie Allen, an English and special education major, said she read The Poet X with her 16-year-old son. "Thank you, thank you, thank you for the inspiration," she said during the Q&A. "This was absolutely fantastic. In many ways, it was as though a dream came true."
Kean first-year students Ida Touray, a biology/health professions major; Faith Taylor, a criminal justice major; and Tracy Snorton, a biology major, said Acevedo's message resonated with them.
"Even if we don't share her nationality, we understand where she's coming from," said Touray, who said her own roots are West African. "I give it an A-plus."
Tagged