'A Better Version of Myself': Kean Grad Student Overcomes Obstacles to Succeed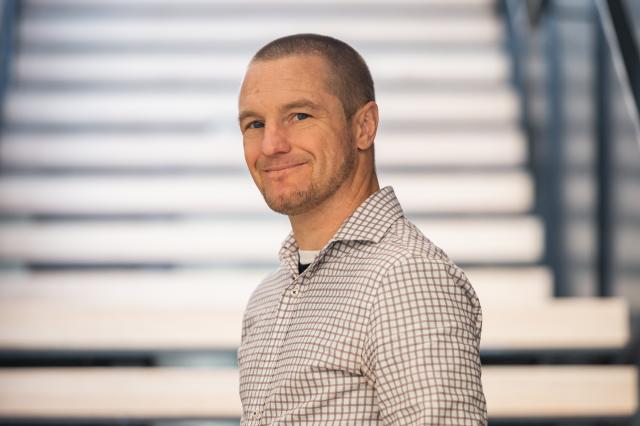 Casey Bucceri's path to Kean University's Graduate Commencement this year began on a street in Paterson, when he went out for a cup of coffee and instead walked into the local community college.
Bucceri, 38, had struggled with homelessness and addiction, and spent years of his life in jail. "I decided if I wanted to change my life, I needed an education," he said.
Six years later he will walk across the stage at the New Jersey Performing Arts Center in Newark on Tuesday, May 17 to receive his master's degree in social work from Kean's Nathan Weiss Graduate College.
"I believe providing male role models is key," said Bucceri, who has been in recovery since 2016. He now works as a substance abuse counselor and lives in Hawthorne with his girlfriend and her son. His "dream goal" is to open an organization to help children in inner cities.
"I want to really focus on helping adolescents or people in need," he said. "I want to help people become better versions of themselves, just like a lot of people helped me become a better version of myself."
Bucceri, who grew up near Atlantic City, speaks openly about the challenges he overcame. He said his parents divorced when he was young and his grandfather died, leaving him with no male role models and low self-esteem.
"I found fake self-esteem in substances, in drugs," he said.
In high school, Bucceri went from playing sports to "getting in trouble" and dropped out. He became homeless and addicted to heroin, living on the streets and eating out of dumpsters, and was arrested multiple times for drug-related offenses. He said he spent more than 11 years incarcerated.
In 2016, "tired of living on the ground," Bucceri decided to enter drug treatment. "I knew I had a problem," he said.
He completed a residential program, then transferred to a halfway house in Paterson. There, while out looking for a job, he went for coffee and chose to get an education.
Bucceri earned his associate degree in 2019 from Passaic County Community College, where he was salutatorian, then got his bachelor's degree in social work, with a minor in youth development and juvenile justice, at Rutgers University-Newark.
He both worked and attended college full-time, and even survived a heart attack. But at Commencement this month, Bucceri said he will not be thinking of the obstacles he overcame.
"Honestly, I'll be thinking more about the present moment. I try to stay in the present because after all my experiences, I should not be alive," he said.
"I'm a product of internal motivation, dedication and discipline, and external motivating factors like social workers, counselors and therapists I met and peers in recovery who wanted me to do better and knew that I could," Bucceri said. "I am who I am because of everybody else."
Godfrey Gregg, Ph.D., a lecturer in the Graduate School of Social Work, said Bucceri is an "outstanding" student with dynamic ideas.
"Casey is a force to be reckoned with. His authenticity, his passion and his willingness to show vulnerabilities were inspirational to his peers and to me," Gregg said. "Simply stated: he stretched out his hand and his heart."
One casualty of Bucceri's addiction was that for years, he said he lost his relationship with his mother. But as he recreated his life, he worked on that, too. They talked by phone. When he was ready to enter treatment, his mother dropped him off.
"With my successes, our relationship grew," he explained.
In his salutatory address, Bucceri wiped away tears as he gave "the most thanks'' to his mom. At Kean's Graduate Commencement, along with Bucceri's girlfriend, his mother will be in the audience.
"We rebuilt the relationship when I got sober," Bucceri said. "Her son wasn't killing himself any more. She was finally able to sleep peacefully."
Tagged