Biotechnology Grad Uses Food Chemistry Expertise to Boost Beer and Food Flavor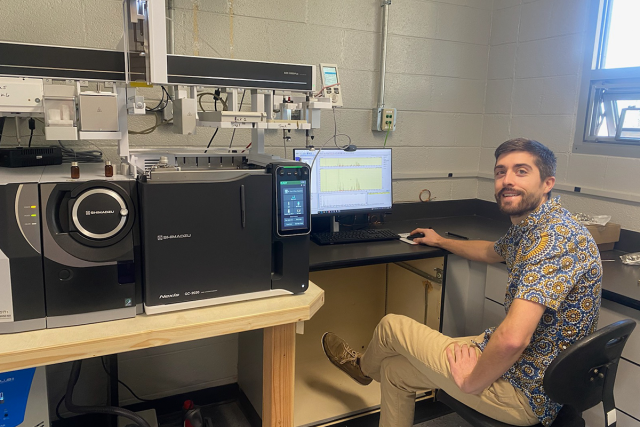 Kean University alumnus Scott Lafontaine, Ph.D., '11, '12, is helping to design better-tasting beer, beverages and food.
The assistant professor of food chemistry at the University of Arkansas teaches students about brewing science, product innovation and analysis. 
"I'm pretty infatuated with the brewing process and how innovations by brewing scientists have changed the world around us, such as the discovery of pasteurization, the pH scale and modern refrigeration," said Lafontaine.
He is establishing a research program focused on improving the quality of nonalcoholic beer. As part of his work, Lafontaine collaborates with geneticists and crop breeders to identify the plant genes associated with favorable flavors, aromas and shelf life. 
"Not only should the crops of the future be climate tolerant, they need to taste great," said Lafontaine, who also expects to use his research beyond beer to partner with industry to boost the quality of products from perfume to pet food.
Lafontaine discovered his passion for the chemistry and brewing science while studying at Kean, where he earned a bachelor's degree in molecular biology and chemistry followed by a master's in biotechnology. He also had an internship at Cricket Hill Brewing Co. in north Jersey.
Throughout his career, he has studied with some of the world's most well-known academics in beer chemistry and food and flavor science.
At Oregon State University, where he earned a master's degree in chemistry in 2015 and a doctorate in food science in 2018, he studied with renowned brewing professor Thomas Shellhammer, Ph.D., an internationally recognized expert in hops chemistry. He also completed two prestigious postdoctoral fellowships, including one funded by the Alexander von Humboldt Foundation in Berlin, Germany. At both the University of California Davis and the Research and Teaching Institute for Brewing in Berlin, he studied under top food technologists and academics in the field. 
"Scott was an amazing student," Shellhammer recalled. "He combined scientific curiosity, intense dedication to his work, and a competitive spirit to become a successful young scientist. It has been satisfying to watch him achieve great things. He will certainly make an impact at the University of Arkansas and in the scientific and brewing communities."
Lafontaine credits much of his success to the career-shaping inspiration and guidance he received at Kean from professors including Laura Lorentzen, Ph.D.; Heather Stokes-Huby, Ph.D.; the late Stephen A. Kubow, Ph.D.; Yeung-Gyo Shin, Ph.D.; and from Tony Ochrimenko, the Kean soccer coach who recruited him. 
At Kean, he said he learned to prize diversity, adding that his mission includes "helping to train a diverse cohort of brewing industry professionals."
He also expressed gratitude to the Kean's scholarship donors, whose support, he said, left him with little debt so he could enjoy "the ability to move around the world in pursuit of knowledge."
Lafontaine said he hopes today's prospective students will consider schools like Kean that offer a high return on their investment.
"Obviously, you have to go after opportunities within those institutions," he said. "If the opportunity you want isn't obtainable at first, go gain a skill set or volunteer, and then reach back out or apply again. It can feel difficult, but look for the joy in working hard and bettering yourself and your community."
At home with his wife, Libby, and two young sons, Lafontaine has tinkered with brewing his own beer, but he gave it up as a hobby, saying, "I get to scratch that itch at work."
Tagged