Business and Marketing Honor Societies Induct High Achievers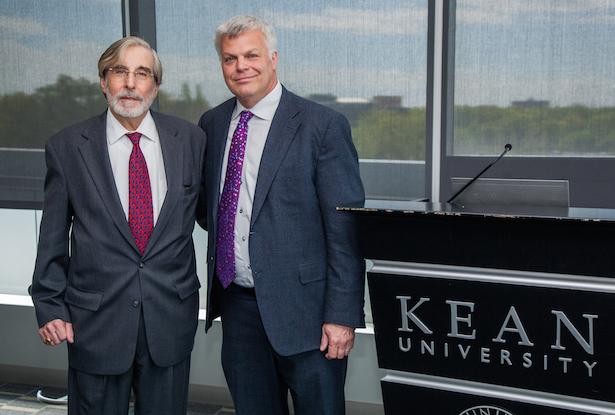 Sixty seven talented young scholars were inducted into Sigma Beta Delta and Mu Kappa Tau, Kean University's business and marketing honor societies, in a ceremony held on Tuesday, May 2 in Kean's STEM Building. The annual induction ceremony recognizes students who maintain a high standard of academic excellence.
Steve Fastook, Kean Foundation President and CNBC senior vice president for technical and commercial operations, delivered the keynote address at the induction ceremony. Fastook encouraged Kean students to seize opportunities while still in college and leverage them into real world professional experiences. 
"The things that you're doing on this campus are real," said Fastook. "All these exercises are real. Take them and carry them with you."
Fastook had the opportunity interview George Bush Sr. as a Kean undergraduate. He took the sole television production class Kean offered at that time and was instrumental in creating the university's television studio. When approaching Nathan Weiss, then president of Kean College, to request $10,000 in funding Fastook boldly offered Weiss his own show. He emerged from that meeting with $15,000 and launched Kean College Commentary with Nathan Weiss.  It was the beginning of a long career in television that would include production stints on Today, Saturday Night Live, Late Night with Conan O'Brien, Dateline, and NBC Nightly News with Tom Brokaw, with Fastook garnering nine Emmy awards. Fastook shared his insights about social media, office politics, and "managing minutiae" with Kean students at the induction ceremony.
Kean professors Shweta Singh, Ph.D., and Janine Black, Ph.D., are the faculty advisors for Sigma Beta Delta and Mu Kappa Tau. Professor Singh commended the inductees for their hard work and resilience.
"It's their fortitude, their sheer determination, their tenacity not to give up that has brought them to this point," said Singh.
College of Business and Public Management Dean Michael Cooper, Ph.D., pictured here with Steve Fastook, welcomed attendees at the event.
Tagged