Business Graduate Helps Navigate Diversity Roadblocks in the Workplace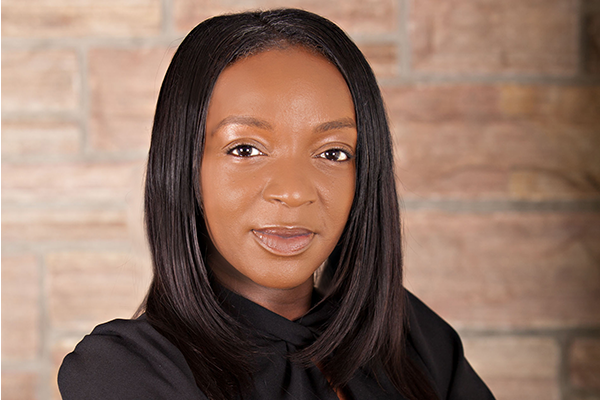 Khabirah White says she has experienced racism through microaggression during her career.
In job hunts, she recalls getting more responses to her resume when she used her middle name, Danielle, instead of her first name, making her ethnicity less apparent. And at work, she said her suggestions sometimes were overlooked in meetings until colleagues who weren't Black pitched the same ideas.
Those challenges inspired White to apply for her role as director of social justice, accountability and change management at RWJBarnabas Health in West Orange.
"I have always been interested in diversity, equity and inclusion," said the Hillside native, who earned a bachelor of science in business administration and management from Kean University in 2012, and a master of business administration from the University of Phoenix in 2020.
"I knew the roadblocks I was hitting, and I wanted to help young people navigate them," she said.
White, who began her job a year ago, designs programs to reduce healthcare disparities; create a safe, just and nurturing work environment; encourage community partners to communicate with people in their primary languages; and ensure that anti-racist language is used in contracts with vendors.
"I love leading people, and I love when they get that 'aha moment,'" she said. "I believe I can make a big impact in this space."
DeAnna Minus-Vincent, executive vice president and chief social justice and accountability officer at RWJBarnabas, said White "has been integral in the creation of mentoring programs and goes the extra mile to ensure that we engage RWJBarnabas Health employees using multi-modal offerings that are culturally, linguistically and educationally appropriate."
White was inspired to join the healthcare industry 21 years ago, when, as a teenage mother, her baby was born prematurely.
"I wanted to be a NICU nurse, because they were so gentle," she said. "I was embarrassed because I was very young, but I didn't feel that shame with the nurses."
Ultimately, White decided she would be happier in a business setting than a clinical one, and that brought her to Kean.
Her program focused on healthcare administration but offered a variety of courses from business communication and statistics to literature and psychology. She graduated from Kean while raising her daughter and working both a part-time and a full-time job.
During her final semester, White simultaneously earned a certificate as an electronic health records trainer from Raritan Valley Community College.
Kean helped make it all possible with its "safe and nurturing environment," she said, especially by offering weekend classes convenient for students working full-time.
After graduating from Kean, White left her job as an administrator at Forest Hill Healthcare Center in Newark, and spent six years at Ciox Health in Rahway, where she was promoted twice.
"I managed up to 35 employees across six different locations," she said, "and learned a lot about juggling tasks and resolving conflict."
She also makes time to volunteer — at Braven, a nonprofit that helps Rutgers-Newark students land jobs; as Board of Directors co-chair for the American College of Healthcare Executives; and as a member of the Young Professionals Advisory Council at RWJBarnabas Health. Someday, she hopes to become an adjunct professor.
"I want to be the mentor I didn't have," she said. "To be honest, volunteering builds my skills, too. I'm introverted and don't like speaking in big groups, and I knew this would help."
She suggests that students build their own skills by networking and using university career services.
"People say that your network is your net worth," she said. "When you connect with folks and build meaningful relationships, opportunities sometimes come knocking at your door."
Tagged