Candles, Music and Creativity Abound at Kean's Camp NaNoWriMo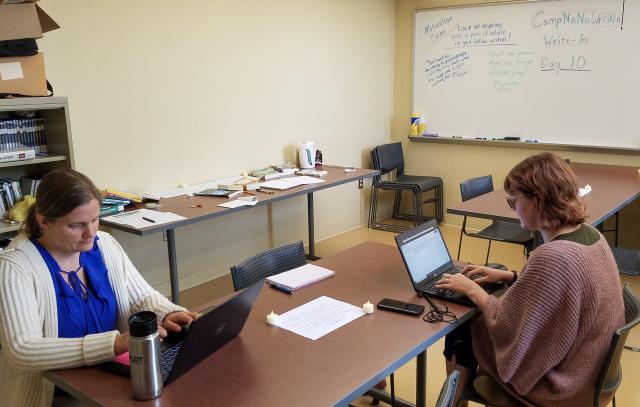 In a small faculty meeting room on the third floor of Kean's Center for Academic Success, a movement is underway to nurture and promote writing. 
Battery-operated candles flickered and music played softly from a Bluetooth speaker one recent afternoon as a handful of faculty and students tapped on laptops at Kean's celebration of Camp NaNoWriMo -- inspired by National Novel Writing Month, an internet-based creative writing project.
"It's a place for people to come in and get writing done, where they have the space and the ability to connect with fellow writers," said Nikki Dreste, who is both writing coordinator and a lecturer in Kean's School of English Studies, as well as a Kean alum. She organized celebrations of National Novel Writing Month and its summer camp version at Kean, and was one of five writers working on laptops there one recent day.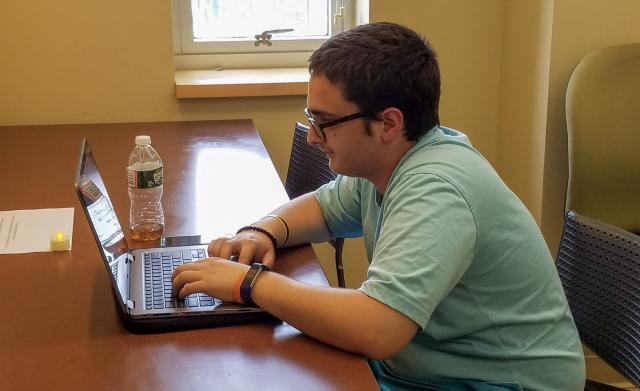 "It's a challenge to get a lot of writing done at once," Dreste said. "We often see the big successes when we consume media, the show you like on TV or the book you read. What people often forget is, they don't see the messy struggle, and failure, and hard work that goes along with it."
National Novel Writing Month is an international online-based effort that takes place in November, when participants challenge themselves to write a 50,000-word manuscript in a month. Camp NaNoWriMo is its summer "writing retreat."
At Kean's event, taking place in CAS 315 from 1-3 p.m. every Monday and Wednesday in July, a table is piled with writing books and writing prompts. A whiteboard "Motivation Corner" provides hand-written bits of advice, such as, "Real courage is moving forward when the outcome is uncertain." 
All types of writing projects are welcome at Kean's event, from research papers, to fiction projects, to academic course outlines.   
"It keeps me focused," said Kimberly Alvarado, managing administrative assistant in Kean's English department, who is pursuing her doctorate and came in on her lunch break to work on a research paper. "It keeps me in line to have a time to sit and write."
Kean senior English literature major Asimakis Pagratis, who goes by the nickname Maki, was writing in "camp" too. He worked on an essay -- called Freedom Rules -- that he intends to use in teaching a Sunday school class. He said it helps to have a time and place to write.
"It definitely helps to write in this calm environment," he said.
Kean's Camp NaNoWriMo celebration also has an online component, a writing "cabin" where would-be authors can register their writing project name and goal. Several writers are taking part that way. Anyone interested in being part of the event can email Dreste at dresten@kean.edu.
For more information on Camp NaNoWriMo, please visit the event's FAQ page or the main NaNoWriMo page.