Chemistry Graduate Brings Passion and Energy to Johns Hopkins University Lab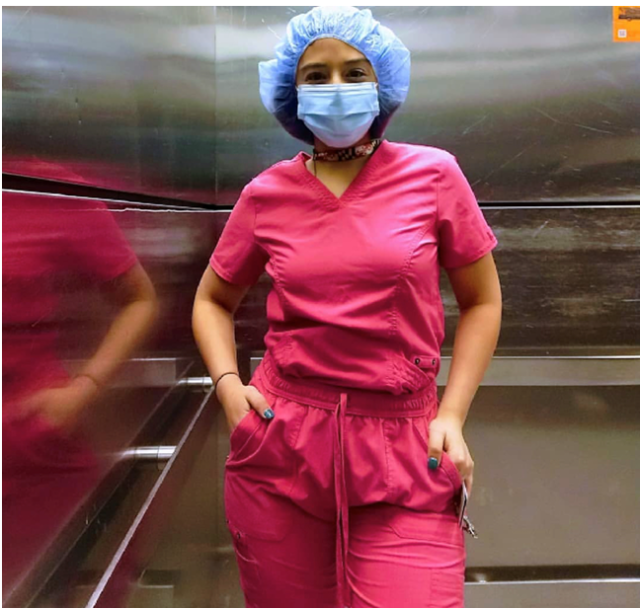 Angela Estevez '17 has the job of her dreams as a lab manager at Johns Hopkins School of Medicine. But to get there, she had to dig deep inside herself to find the confidence and resilience to apply for a position at the school 11 times.
Estevez, who was hired in 2020, is now senior manager of the Johns Hopkins Vascularized Composite Allotransplantation (VCA) Research Lab in its Department of Plastic and Reconstructive Surgery. She juggles administrative, research and operating-room responsibilities and has revived a stalled lab renovation at 17% under budget.
"I have learned so many lessons by treating my life like an experiment: what happens when you push yourself too far, but also what happens when you push yourself to dream bigger," she said. "I wanted to come to Johns Hopkins, and the 11th time was a charm. But without all the encouragement I received from my mentors at Kean as I finished my degree, I never would have been that persistent."
Estevez was no stranger to obstacles while attending Kean University. She faced many challenges, including financial hardship, and held numerous part-time jobs during the seven years she spent working toward a B.A. in chemistry. 
Jeffrey H. Toney, Ph.D., Kean senior vice president for research, mentored Estevez as a student. He said she and another student worked for several semesters on a research project about bacterial resistance to antibiotics, and Estevez "distinguished herself through fierce determination to succeed, with creativity and a good sense of humor."
In addition to the biochemical work, she suggested the team create a graphic novel as a tool to communicate the complex chemical mechanism.
"The resulting product communicated the mechanism in a way that any student could understand," Toney said. "I am privileged to be her mentor over the years, from her freshman year at Kean to a senior management position at one of most distinguished research universities in the world. I am so proud of her!"
At Johns Hopkins, Estevez's lab's work includes testing therapies designed to prevent organ rejection in people after transplant. The goal is to limit the number of medications these patients need to take for the rest of their lives. Additional VCA research aims to make available organs more viable for transplantation and for longer periods of time. 
Estevez divides her time between administrative duties such as ordering and managing supplies and overseeing financial accounts, conducting research and assisting in the operating room. In addition, she is preparing to pursue an online master's degree in business administration.
"In 2011, I thought I was going to go to medical school, and although I didn't go that route, I ended up at the same place, because now I'm scrubbing into surgeries," she said. "All I really wanted to do was to nurture my curiosity and creativity and apply it to projects, and I'm succeeding at that."
Estevez's passion for her job is obvious to Giorgio Raimondi, Ph.D., the lab's associate scientific director for transplant immunology.
"Angela is a tornado of energy, efficiency and positivity who has helped bring the operations of our laboratory to an unprecedented level," he said. "She has an incredible drive paired with uncompromised integrity, and she is devoted to enabling our tribe to make important scientific contributions that will touch the lives of many people."
Among the youngest in her class even before she skipped a grade in the Dominican Republic, Estevez lost no ground when she moved to the U.S. at age 9 and enrolled at Kean at the age of 16. While at Kean, she also contributed to research in the labs of the late Stephen A. Kubow, Ph.D., the former associate vice president of Kean Ocean who taught chemistry at the time; and James Merritt, Ph.D, associate professor in Kean's NJCSTM honors program. After graduation, she worked for Kean as an academic specialist, helping students from Ocean County College to matriculate.
"Only once or twice in a career is an educator and faculty member fortunate enough to come across a student as unique and special as Angela," Kubow wrote in a 2014 letter. "She is a rare combination of ability, intelligence, interest, drive, perseverance and curiosity."
Estevez's hope for current Kean students is that they will stay true to themselves and their goals.
"I hope everyone knows that it's not easy," she said. "You doubt yourself every step of the way and don't know if you're making the right choices, but again, life is like a big field experiment. Even if you fail, you're still winning, because you're still trying."
Tagged