The City of Orange and Orange Public Schools Address the Amistad Mandate Through a New Partnership with Kean University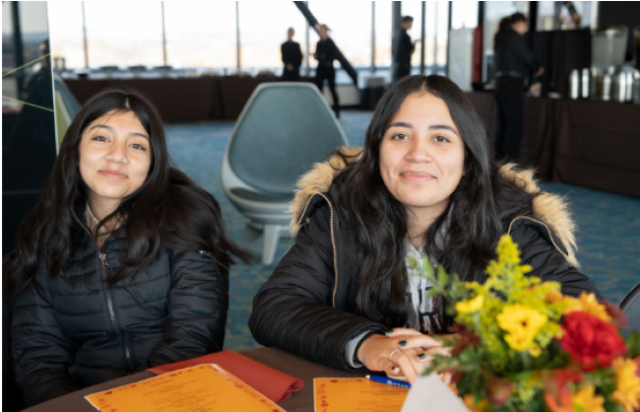 Orange Public School students will have the opportunity to engage with their peers in Ghana, West Africa via videoconferencing under a new partnership with the City of Orange, Kean University and Oiada International.
The new Amistad Global Village Program aims to build stronger community relationships through civic engagement and literacy by connecting young people across the world. 
"Kean University is committed to building a pipeline for students of all ages and from all backgrounds to pursue higher education," Kean President Lamont O. Repollet, Ed.D. said. "Programs like this build bridges with New Jersey's communities and help accelerate learning for young people to keep them on the path to climb higher."
Orange Mayor Dwayne D. Warren, Esq. said he is excited to work collaboratively to prepare students for global success.
"I am excited to have our students showcase and build their skills in critical thinking, presentation and public speaking, as well as developing research and writing skills during this endeavor," Warren said. "We are confident that this virtually interactive experience will allow our Orange students to demonstrate their ability to be effective leaders, ambassadors, and the next generation of problem solvers."
The program will incorporate the Amistad curriculum, which integrates the history and contributions of African-Americans and the descendants of the African Diaspora, into projects and presentations.
Sancha K. Gray, Ed.D, senior vice president of Kean's Entrepreneurial Education Initiatives (EEI) division, said the University is pleased to support the program as it provides an innovative way to engage students in literacy and civics.
"Embedding African-American history into social studies curriculum is what the Amistad mandate requires," Gray said. "Through experiential learning opportunities, students will deepen their knowledge of America's history while honing their leadership skills to make impactful decisions and work through problems as they arise."
Oiada will facilitate the weekly videoconferencing, which will give ninth graders at Orange Preparatory Academy the chance to interact in real time with students enrolled in the Osagyefo Leadership International School in Ghana. The program is slated to begin on January 3, 2023.
"Through live face-to-face interaction with students in Ghana, Orange students will increase their appreciation of Africa and the myths and misconceptions that still exist today will be dispelled," said Eric Jones, Chief Executive Officer for Oiada International. "I would like to thank Mayor Warren and Kean University for their vision and dedication to the academic success and cultural empowerment of the students of Orange."
Gerald Fitzhugh II, Ed.D., superintendent of the Orange Public Schools, said the program fits well with the district's quest to "Move into Greatness" as outlined in the 2021-2026 strategic plan. 
"Experiences like these do not come often and we are appreciative of the continued collaboration," Fitzhugh said. "We cannot wait for the first live session to occur in the coming weeks.  This is certainly a groundbreaking partnership and experience for the scholars of the Orange Public School District."
Gray said Kean's EEI division plans to partner with other districts on the implementation of the Amistad Global Village program to ensure that more students have access to curriculum that not only meets the mandate but brings the curriculum to life.