Co-inventor of Siri Describes the Breakthrough Moment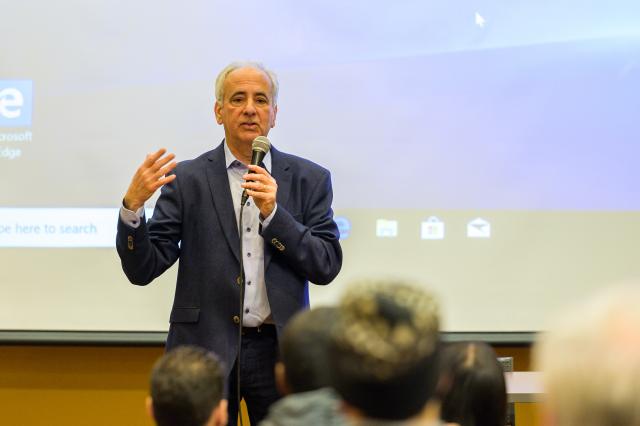 The "aha" moment that led to creating the virtual assistant technology Siri occurred during a brainstorming session on a California beach, Siri's co-founder told Kean University students and faculty during a lecture on Monday.
Norman Winarsky, Ph.D., the past president of SRI Ventures at SRI International, founded by Stanford University, said his team had decades worth of research in artificial intelligence (AI), and wanted to find a way for smartphone users to access websites without pointing or clicking. So they took a break from the office -- and went to the beach -- to brainstorm solutions.  
"We knew the next computer would be a super computer you could keep in your pocket," he said. "We didn't want people to have to point and click on a smartphone. We wanted them to talk to their phone."
His team launched Siri in 2010, and sold it to Apple shortly thereafter.
A venture builder, venture capitalist, author and lecturer, Winarsky inspired the audience of about 100 Kean students and faculty, telling them that they can achieve their own successes with technology in the future.
"This is your time. We are now undergoing major transformation in industry," Winarsky said. "You can and will be able to create great breakthrough companies."
Winarsky has played a role in creating more than 70 ventures worth over $50 billion in the areas of AI, health care, medical devices, robotics and nanotechnology. He holds a Ph.D., M.S. and B.A. in mathematics from the University of Chicago; was a member of the math department of the Institute for Advanced Study in Princeton; and is currently a lecturer at the Stanford Graduate School of Business.
Also an Emmy-winner, for technological advancement leading to high-definition TV, he is currently focusing on developing ventures at the intersection of health care, robotics and AI -- ways that can improve the way people live and work.
Dean George Chang, Ph.D., of the Kean College of Natural, Applied and Health Sciences invited Winarsky to speak at Kean.
"This is such a great story.  Dr. Winarsky grew up in New Jersey and came back to New Jersey to inspire the future generation of scientists and entrepreneurs," Chang said. "The wisdom and experience that he shared will have a profound impact in changing our students' future."
Chang noted that Winarsky also stressed the importance of studying math, mathematical logic, and a broad array of subjects as a foundation for success.
Winarsky told the audience that the way to a breakthrough idea is to find a problem shared by many people -- a "pain point" -- come up with a solution, and build a great team of people to make the solution a reality.
He also shared some fun facts about Siri. The name, which came from a Norse princess, was selected because it was easy to remember, non-gender-specific, and didn't have negative meaning in other languages. While best known as a female voice, the voice can also be male, and use other accents. And the first time Steve Jobs called Winarsky's team to talk about Siri, someone hung up on him, not believing the call was real.
He also joked that the voice-activated assistant isn't always perfect. At one point during the lecture, an audience member's smartphone began talking. "That's Siri, always interfering," Winarsky quipped. "Hey, Siri, who's your daddy?"
But he said the voice-activated technology, which has now been copied by many others, is the future. "In the future, if a company doesn't have a virtual assistant, it won't survive," he said.
Students said afterward they were impressed by the presentation.
"That was an amazing talk," said computer science major and senior Michael Arellano, who runs a computer web design company, and collaborated with fellow senior Yordy Castillo on a project using computer vision technology to identify empty parking spaces at Kean. Arellano spoke to Winarsky, saying he wants to take his ideas to the next level.
Naim Hopkins, a junior computer science major who plans to earn a doctorate in robotics and artificial intelligence, valued the lecture too. "It was good getting the perspective from someone who has an advanced degree and is connected with research and entrepreneurship," he said.
For his part, Winarsky said the response he received and the questions from Kean students were "high caliber."
"These are outstanding questions," he said. "I get a good feeling (about Kean) from these questions."