Documenting History, Kean Professor Is Producer of Films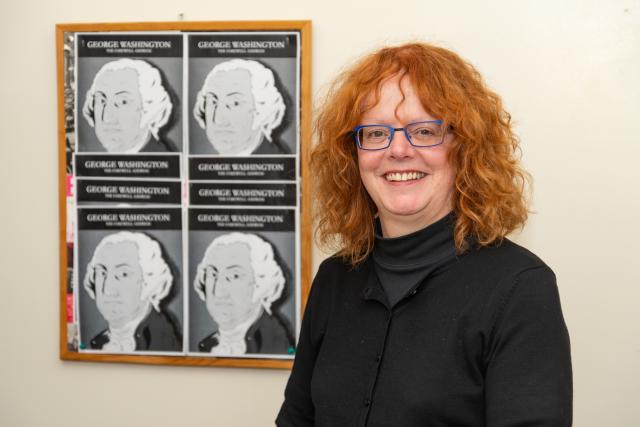 C. Brid Nicholson shares her passion for history by making documentaries that offer a different way of looking at some of the most fascinating figures of the past.
Nicholson, who serves as assistant chair of Kean's History Department, produced a film on the farewell address of George Washington, in which he announced to the country that he would not seek a third term.
She's also currently working on a story about the life of Mary-Jane O'Donovan Rossa, an Irish revolutionary and poet who moved to New York in the late 1800s, which will be directed by Williams Cole, and the story of Huburt Julian, a Trinidadian adventurer-aviator.
"They're all history-based. That's really the biggest key. I'm trying to get at different ways of looking at history," said Nicholson, who is also currently director of the Holocaust and Genocide Studies program. "The work I do with these films combines what I love most, history, film, and providing different opportunities for people to learn about history."
Nicholson, who came to the United States from Ireland as a graduate student, holds a Ph.D. in history from Drew University, and spent time at the University of Southern California film school, working on documentary film production. She has been at Kean since 2006.
Nicholson said she treats documentary film making as seriously a writing a book, with the use of sources and archival materials. Her films, which cost about $10,000 each to make, combine various elements. The film on Washington, for example, weaves together interviews with experts, including Acting Dean of the Kean College of Liberal Arts Jonathan Mercantini, Ph.D., with illustrations commissioned for the documentary.
"There's only a certain amount of portraits of George Washington out there that we can use," Nicholson said.
The film, which was directed by Billy Tooma and Tony Calandrillo, is available for viewing on YouTube, and may be used free of charge by teachers and professors.
Mercantini, who also teaches history at Kean, said he enjoyed the experience of being one of the experts on the film.
"It shows how talented she is as a historian, in bringing these stories to the broad public who want to know more," Mercantini said. "Increasingly people are using video and documentaries because they are easily accessible, so it is fantastic that we have a history professor at Kean working on these important projects."
Nicholson is also currently developing a film that tells the story of Ken Forsse, inventor of the Teddy Ruxpin bear. Teddy Ruxpin is a "talking" stuffed bear created in the mid-1980s that "reads" stories to children.
"That opportunity came to us, and it was too good to turn down," she said. "Teddy Ruxpin is part of American culture, that wonderful moment of the beginning of the computer and the electronics age."
Moving forward, Nicholson said she would like to involve Kean students in documentary projects. With the history department planning to move to a new building under construction, the Liberty Hall Academic Center, Nicholson said she sees possibilities to create podcasts and documentaries within the department.
"Documentary filmmaking, I think, is vital for this generation of students. They understand the visual very well," she said.
Mercantini noted that history and communication are both strong majors at Kean, and said getting students involved in projects such as the documentaries "is certainly something we are willing to support.
"We know that employers desire students with multi-disciplinary skill sets," he said.