Education Degree Helps Kean Graduate in the Classroom — and Out at Sea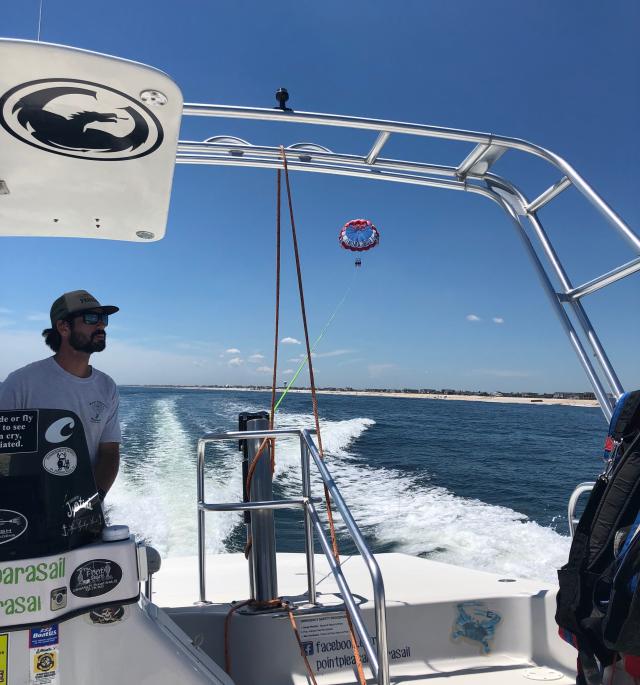 Christopher "CJ" Titmas '14 loves helping people check an item off their bucket lists.
He gets that satisfaction every summer when he harnesses his customers to a parasail that lifts them 250 to 300 feet above the water, making his boat look like a toy and the people on the nearby beach like ants.
"I'm providing a service that people really enjoy," said Titmas, who operates Point Pleasant Parasail when he's not teaching fourth grade at Manchester's Whiting Elementary School. "It's a cool feeling when people tell me I made their whole summer, or that they've been wanting to do this forever. For most, it's a very unique experience."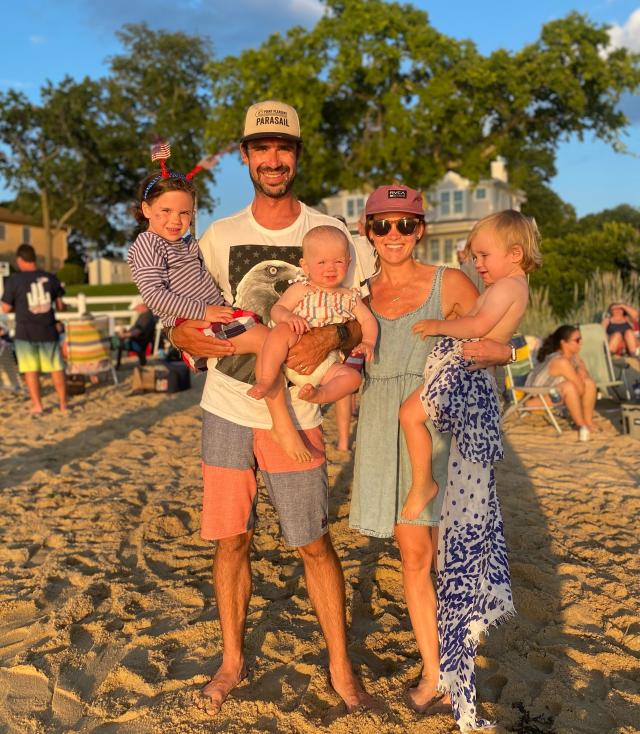 Parasailing is less out of the ordinary for Titmas, who grew up enjoying the water in his hometown, Point Pleasant Borough, and as a teenager secured a job on the crew of the parasailing boat he now owns. He was put in charge several years later and, after earning his captain's license in 2009, bought the business in 2011.
In addition to providing a fun atmosphere where he can enjoy interacting with people, Titmas said, the job put him in the right place to meet his wife, whose father ran a fishing boat docked next to his. Married in 2015, the couple now co-own the business and have three children ages 6, 3, and 1.
Titmas owned the parasailing business for three years before he earned his B.A. in elementary education from Kean University with a concentration in history. "Chasing summers was fun, but it was time to settle down a bit," he said.
He chose education because he had always enjoyed working with children and spending time with his "ton of little cousins." It was certainly different than spending time on the water, but Titmas found that the two jobs shared a similar benefit — the opportunity to work with people and support them through new experiences.
Titmas said the lessons he learned at Kean are helping him not just in the classroom, but on the water. Knowing how to manage a crowd is essential when he takes groups of 12 out to sea, where they take turns floating through the air. Meanwhile, staying organized is key in preparing for yearly inspections by the U.S. Coast Guard, undergoing annual training, keeping up with a strict equipment maintenance routine, overseeing a crew, and following guidelines about when it's safe to fly based on weather and ocean conditions.
Gregory Lins, a high school guidance counselor and longtime friend who works at the parasailing business every summer, described Titmas as a local success story who is giving back to his community.
"CJ has always been a really nice, good person, and that carries over into his business," Lins said. "He knows his customers are spending money and are on vacation, and he wants to make sure he's providing them with an excellent experience."
Titmas said he is grateful to Kean for providing him the opportunity to take all his classes at Kean Ocean located on the Ocean County College campus in Toms River, since a commute to the main campus in Union would have prevented him from earning his degree. "I don't know how else I could have done it," he said, "because my summer business overlaps into spring and fall."
Having succeeded by "trusting my gut" about career choices, even when they were scary, Titmas advises others to do the same. "I was nervous to start teaching because it wasn't part of my original plan," he said, "but now I've come into my own and enjoy what I do during both the summer and the school year."
Tagged