Faculty-Student Research Team Advances Understanding of Fertility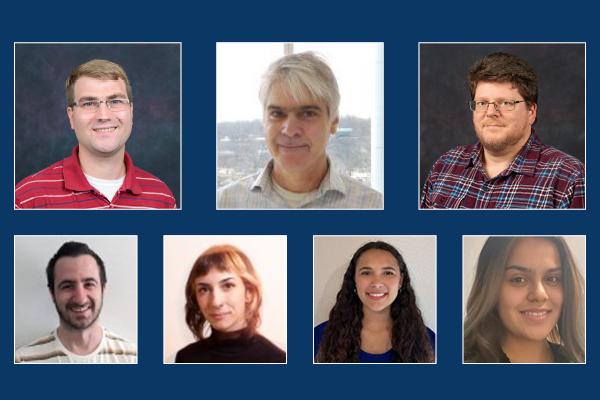 Kean University researchers studying fruit flies have developed a mathematical model of a key building block in animal reproduction that could have applications in the study of human fertility.
The research, led by Matthew G. Niepielko, Ph.D., assistant professor of computational biology at Kean's New Jersey Center for Science, Technology and Mathematics (NJCSTM), was published in the ​​prestigious Biophysical Journal.
Working with professors from Kean and Princeton University as well as four Kean students, Niepielko created a mathematical model of germ granules, what he calls the "houses for mRNAs" that allow fruit flies, many animals and even humans to form the primordial germ cells that they need to reproduce.
"We actually created a model that mimics and reproduces the formation of these structures using math and computer science, Niepielko said. "Now we have a model that we can use to test different experimental conditions as opposed to waiting weeks or months on an experiment.
"It is a very accurate model, based on our analysis," he added. "We can use it for other research and continue to improve it. It's really jump-started a lot of potential future applications."
Ultimately, the model could help uncover strategies for boosting or restricting human fertility.
The research was supported by a $315,000, three-year grant from the National Institutes of Health as well as a research grant from Kean President Lamont O. Repollet, Ed.D., which allowed the purchase of a $600,000 state-of-the-art confocal microscope.
"This microscope has super resolution. Without it, this project would not have been possible," Niepielko said.
Repollet said the University is actively pursuing an R2 Carnegie research designation and is investing in faculty and facilities to move the University toward that goal.
"It is very gratifying to see the positive impact those investments are already having," Repollet said.
Niepielko launched the project during the COVID-19 pandemic, collaborating with two NJCSTM colleagues, computational science professor David Joiner, Ph.D., and assistant professor of mathematics Edward Farnum, Ph.D., as well as Princeton molecular biologist Elizabeth R. Gavis, M.D., Ph.D.
Also part of the research team were four Kean students, Michael Valentino '21 M.S., a computational scientist; Kean senior Bianca Ulrich and junior Dominique Doyle, biotechnology majors; and junior computational science student Bianca Ortega.
"What's cool about this project is that it's not just biology, computer science or math," Niepielko said. "It's all these fields coming together, with students using their areas of expertise to put together unique parts of the puzzle."
Joiner, Farnum and Niepielko served as mentors to Valentino when he was a computer science graduate student at Kean. Valentino first developed the germ granules model.
"Mike proposed several mathematical models for cluster growth, each with varying complexity," Farnum said. "My job was to help him discern which mathematical features were necessary to capture the observed growth and which features could safely be neglected."
The students are listed as co-authors on the research paper, Computational modeling offers new insight into Drosophila germ granule development. They also presented their findings at the Annual Drosophila Research Conference in San Diego, attended by scientists from around the world who study fruit flies.
The Class of 2022's Bianca Ulrich, of Cranford, credits her work with Niepielko and other faculty with helping her get her "dream job" as a bacteriologist at Bristol Myers Squibb.
"I am not sure if I would be where I am today if it were not for the incredible opportunities available for students like me at Kean," she said. "I believe that if you have a real passion for something, faculty here will embrace that and provide you the tools you need to succeed."
Dominique Doyle, of Wrightstown, is now training on the confocal microscope, a sophisticated piece of equipment that Niepielko said undergraduates rarely operate as part of their studies. She will also be conducting research at Cornell University this summer.
"I will be able to learn new things, expand my knowledge, and bring it back to the University to share what I know with others," she said. 
Bianca Ortega, of Roselle Park, said the research has helped her land an internship at NASA this summer.
"To anyone who is on the fence about conducting research, my advice would be to do it," she said. "If it wasn't for research, I never would have known what I was capable of."