Father and Daughter to Graduate from Kean Together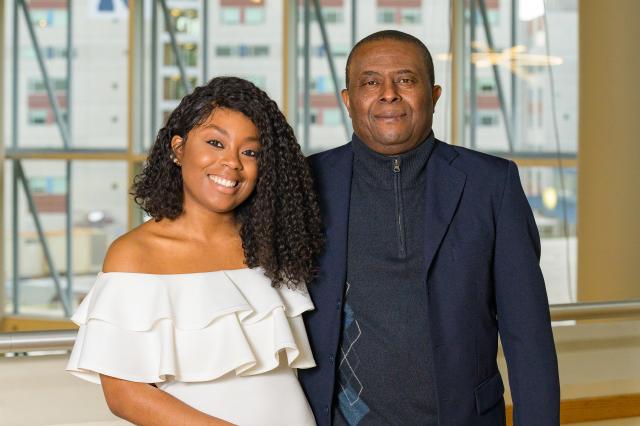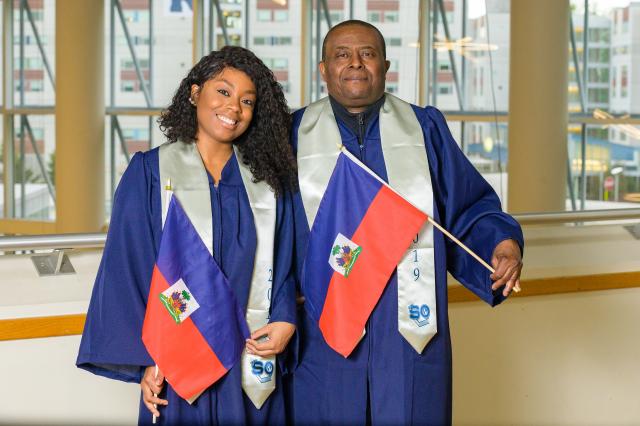 For Kean graduates Welena and Wisner Noel, Kean's Commencement will truly be a family celebration.  
The father and daughter will both receive bachelor's degrees at the undergraduate ceremony on May 23 at the Prudential Center in Newark.
"It's not every day that you get to walk across the graduation stage at your university with your father beside you," said Welena, 21, who will receive her Bachelor of Arts degree in theatre. Her dad, Wisner, 61, will receive his Bachelor of Arts degree in recreation administration/therapy.
"I am beyond happy to be experiencing this moment with my father," Welena said. "We want to show the world that it doesn't matter how old you are, you can accomplish anything as long as you put your mind to it."
The Noels, who live in Linden and have proud Haitian roots, are the first in their immediate family to graduate from a four-year university. Wisner and his wife, Marie, moved to the United States from Haiti 22 years ago with their oldest daughter. Welena and her brother were both born here.
The road to the shared graduation took some twists and turns. Welena said she realized she wanted to go to Kean in the fall of 2015 — when she was sitting in her freshman dorm room at a different university. "I realized it was, in fact, not the right choice for me. I called my sister and father the day before classes started and my father drove all the way to Connecticut to get me," she said. "I came back home and replayed thoughts in my head of peers and mentors recommending Kean's theatre program. I applied immediately to Kean."
Meanwhile, Wisner, who is a licensed practical nurse, pursued several different paths before deciding to come to Kean.
It was not until last fall that they realized they would share a graduation stage. "It's exciting. It's a sense of joy," Wisner said. "I've enjoyed going to school with my daughter."
"It only kicked into reality this semester," Welena said. "It was surreal. I'm really looking forward to it."
Both Noels work full time at Clark Nursing Home and Rehabilitation Center. They did not regularly commute to Kean together because they work opposite shifts, but they occasionally crossed paths on campus.
"That's always a funny and cute moment for us," Welena said. "I've had professors and my best friend let me know when they've seen him on campus as well. He is a very loved guy."
Welena is returning to Kean to earn a certificate in therapeutic recreation, but she also hopes to make it to Broadway. She has performed in theatre productions at Kean and recently landed a paying gig in a community theater production of Little Shop of Horrors.
The upcoming Commencement will be a festive family occasion for the Noels. The family hired their own video team to capture the special moments and planned a reception at a restaurant. They will also have a big crowd supporting them at the ceremony.
"We have a lot of friends and family coming, maybe 30 to 40 people. It's a big deal for us," Welena said. "We believe that family is super important. I know I'm going to cry."