Former Obama Advisor David Axelrod Tells Audience at Kean to 'Hold Us Accountable'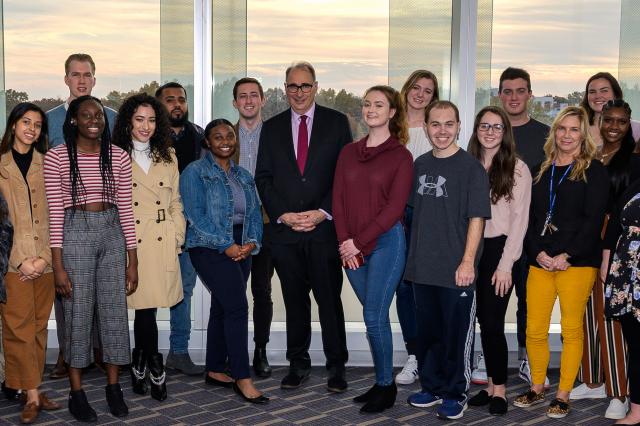 Political consultant and former senior White House advisor David Axelrod urged an audience at Kean's Distinguished Lecture Series to use the tools they've been bestowed and get involved in politics and government to hold the system accountable.
Axelrod, the chief strategist of former President Barack Obama's winning campaigns and now a well-known TV news contributor, spoke to a packed house at Kean's STEM auditorium on November 21 and held a private session with students. 
Referring to the ongoing impeachment inquiry of President Donald Trump and the "red-blue craziness" of U.S. politics, Axelrod encouraged the audience, especially young people, to "get out of your own reality silos."
"We've lost our sense of the large community," he said. "These are dark days in our political system. It's easy to be cynical or walk away. But you guys can't walk away. Please hold us accountable. Make this the system you want it to be." 
Kean's Distinguished Lecture Series, now in its third year, brings internationally acclaimed thought leaders to the Kean University campus. Former U.N. Ambassador Samantha Power was the first lecturer this year, telling an audience in October to take action in small ways to effect global change.
"Shrink the change," she said. "Serve and vote, rather than tweet and rage." 
The series continues with human rights advocate Martin Luther King III on February 13, 2020, and futurist Jamie Metzl on April 27, 2020.
Axelrod detailed his career from his first sighting of a presidential candidate -- John F. Kennedy, in New York City when he was 5 years old -- to his years in Chicago journalism, then his work as chief strategist for Obama's winning campaigns in 2008 and 2012.
College students and other young people were key to Obama's victory, Axelrod said, and they have the power to act now. Currently the director of the bipartisan Institute of Politics at the University of Chicago, Axelrod said he welcomed the chance to speak at Kean.
"I find it inspiring to walk into rooms like this. Kean, with its very diverse student body, is a great reflection of the larger community," he said. "Students see the possibilities."
Political science major Chevon Williams '22 of Bayonne, who is the secretary of the United Nations Association Kean University Chapter, said Axelrod's lecture resonated with her passion for advocacy. 
"So many people forget the significance of starting action in their communities because they don't see the benefits," Williams said. "His lecture was a call to arms for young voters to learn how to comprehend and understand legislation and act accordingly by using their right to vote."
Axelrod also offered his prediction for the year ahead, as the country witnesses an impeachment inquiry and a coming presidential election.
"I think we're in for a tumultuous year. This is going to be a tumultuous election, and one hopes that at the end we can pull the country back together," Axelrod said. "This is an easy time to check out of politics. It's an easy time to lose faith. But actually the opposite is true. We have the tools. We can't let those who profit off division win."