Galleries at Kean Collaborates with Local High School on Art-inspired Dance Performance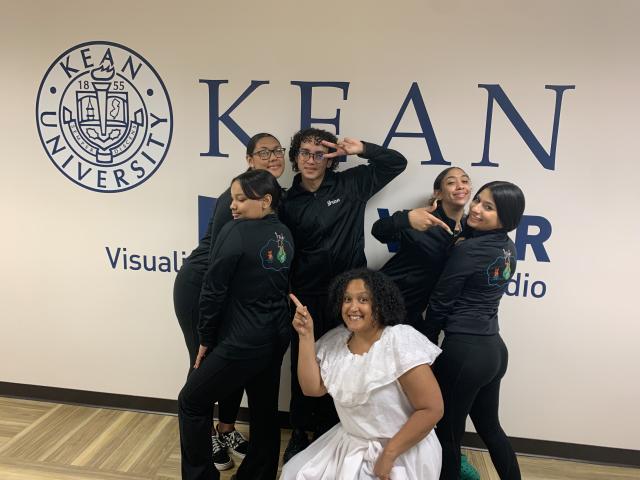 The Galleries at Kean University premiered its first-ever cross-disciplinary art experience, Perdidos, collaborating with Thomas Jefferson Arts Academy students and artist Tamara Torres on a dance performance inspired by Torres' art.
Perdidos, performed at Kean's Visualization and Immersive Studio for Education and Research (VISER) in the Nancy Thompson Learning Commons on Tuesday, May 10, tells the story of a 15-year-old Puerto Rican girl who was abducted by human traffickers while spending the day in a park with her family. 
The students at the Elizabeth high school developed the dance performance after experiencing Profundo, the art exhibition by Torres on display in Kean's Karl and Helen Burger Gallery. Torres' work amplifies the voices of women of Puerto Rican descent and their struggle with institutionalized cultural violence and disempowerment. The artist joined the dancers on stage as they captured the struggle of the teenager trying to get away from her captors and the mother's frantic search and calls for help that go unanswered.
"The storytelling by the students gives a voice to those who struggle in silence," said Lynette Zimmerman, executive director of Liberty Hall Academic Center and the Galleries at Kean. "From the outset, Torres' vision for her exhibition at Kean included a live performance piece, and it is inspiring to see that an art exhibition can prompt creative engagement and make an even greater impact." 
Created under the direction of Thomas Jefferson Arts Academy dance teacher Fatima Maqboul, Perdidos brings awareness of critical global issues to the forefront. 
"Having an opportunity to collaborate with Kean University and a visual artist such as Torres is important for our students; it expands their view of creative spaces and engagement," said Maqboul. 
Student participants included Brian Abreu, Damari Bernia, JaDay Garel Acosta, Aryana Ruiz and Natasha Soto. Torres and the students plan to perform the piece again over the summer.
"Our students deeply appreciate the opportunity to collaborate with Tamara Torres and the Galleries at Kean for the purpose of raising awareness about human trafficking and broader issues of social justice," said Michael Ojeda, Ed.D., principal of Thomas Jefferson Arts Academy. "We hope this collaboration inspires visitors to think critically and question how to support victims around the world."
For more information about Profundo and the Galleries at Kean, visit galleries.kean.edu.
Tagged