History Professor Honored with 16 Over 61 Award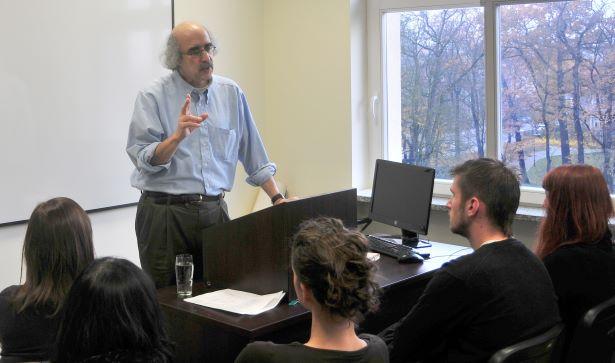 A Kean University history professor has received a 16 Over 61 Award for age-defying contributions and his "creativity, leadership and initiative." The honor was awarded to Professor Dennis Klein, Ph.D., jointly by the Forward and Marlene Meyerson JCC Manhattan's Wechsler Center for Modern Aging.
"It goes without saying that I am honored by this recognition. Aging is an accretion — of experience, knowledge and observation that can be the most fruitful and consequential period of all," Klein said.
Klein, 73, is the director of Kean's Jewish Studies and Master of Arts in Holocaust and Genocide Studies programs. He was chosen for the award from a group of more than 100 nominees from the United States and Canada.
Klein was recognized for his scholarship at Kean, including the seminar he led this summer, The Search for Humanity After Atrocity, for which he received a grant from the National Endowment for the Humanities. In addition, he was lauded for his community organizing efforts in his hometown of Teaneck, where he is helping to implement a restorative justice program in a local high school and is consulting on the development of a joint narrative on the origins and structural hierarchies that informed U.S. slavery and the Holocaust. 
The inspiration for the honor is to celebrate the stories of individuals who take "transformative journeys late in their lives," according to the 16 Over 61 website.
The Forward, the nonprofit Jewish newspaper, and the Wechsler Center launched the 16 Over 61 Award this year. The youngest recipient is 65, and the oldest is 99. All are still active in their fields. They were selected for their "sense of purpose and the desire to make the world a better place."
"This award is a platform for recognizing that aging, which we would all like to deny, offers roads not yet taken and spiritual maturity that brings about a convergence of discrete parts to yield a new register of existence," Klein said.