Hundreds of Job Seekers Attend Joint Law Enforcement Recruitment Event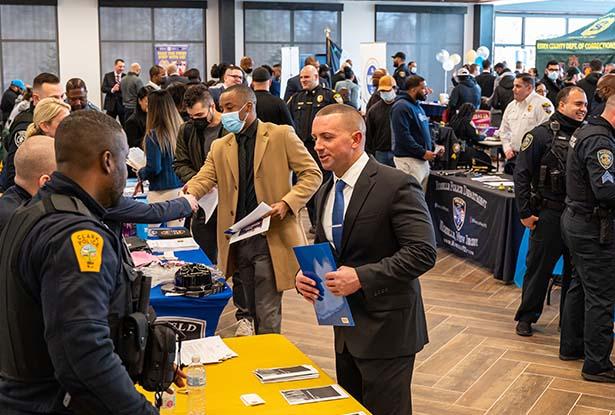 Hundreds of students and community members pursuing careers in law enforcement attended a law enforcement recruitment event this week on the Kean University campus.
The event, which was jointly hosted by the University and the Union County Prosecutor's Office, drew more than 44 law enforcement agencies at the federal, state, county and municipal levels.
Kean President Lamont O. Repollet, Ed.D., said the University was glad to host such an important event to support local law enforcement agencies looking to build diverse workforces.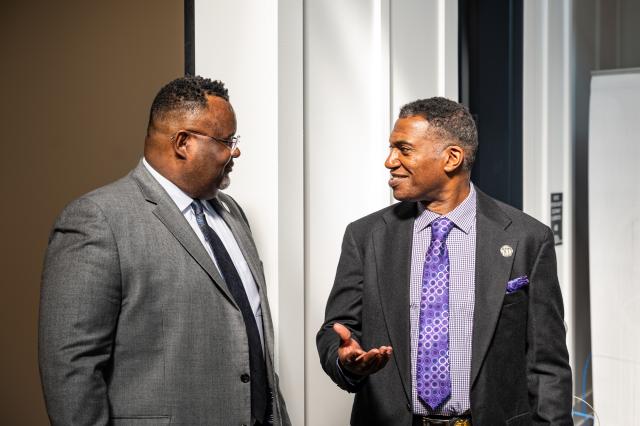 "Kean takes great pride in being one of the most diverse and inclusive universities in the country," Repollet said. "We want to foster equity across our entire community, including in law enforcement, so it was great to see so many applicants from all backgrounds come out and learn more about these great career opportunities."
Union County Prosecutor's Office Chief of Detectives Harvey Barnwell said many law enforcement agencies are in need of qualified applicants, especially those from underrepresented groups.
"We are all searching for the right candidates who bring the skills and life experiences that will help them support community policing and other initiatives that are critical for public safety," Barnwell said. "That's why it's so important to partner with a university like Kean for this type of recruitment event because we know we're going to draw many qualified applicants who are ready to protect and serve."
The event was supported by the Union County Board of County Commissioners, New Jersey Senate President Nicholas Scutari, State Sen. Joseph Cryan, State Sen. Jon Bramnick, Elizabeth Branch NAACP President Shawn McClain, Rahway Branch NAACP Vice President Reverend Gary Hall, and New Jersey NOBLE President Jiles Ship.
Agencies in attendance included the Bureau of Alcohol, Tobacco, Firearms, and Explosives (Newark), Drug Enforcement Administration, Federal Bureau of Investigation (Newark), Homeland Security Investigations (Newark), Internal Revenue Service, New Jersey Division of Criminal Justice, New Jersey State Police, New Jersey Office of Homeland Security and Preparedness, New Jersey Department of Corrections, New Jersey State Parole Board, New Jersey Division of Civil Rights, Prosecutor's Offices of Bergen, Camden, Essex, Hudson, Morris, and Union counties, and the Police Departments of Berkeley Heights, Clark, East Orange, Essex County Corrections, Hillside, Irvington, Kean University, Linden, Mountainside, Newark, Orange, Plainfield, Rahway, Rutgers University, Roselle, Scotch Plains, Stevens Institute of Technology, Union County, Union County Sheriff, Union Township, Westfield and West Orange.