Kean Announces New Doctorate in Speech-Language Pathology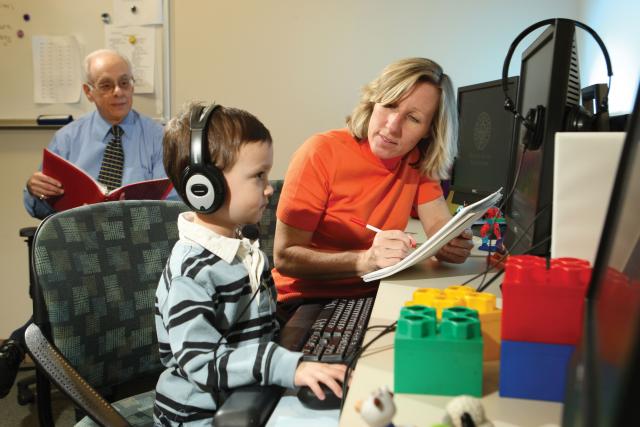 Kean University is expanding its allied health program offerings once again, with the addition of a new Doctor of Speech-Language Pathology (SLPD) program. The SLPD, which will be Kean's fifth doctoral program, has been approved by the New Jersey Presidents' Council and is expected to welcome its first students in fall 2017. It will be one of only seven clinical SLPD programs in the nation and the first such program in the northeastern United States. 
Speech-language pathology is a profession in great demand and with strong job prospects. The U.S. Bureau of Labor Statistics projects 21 percent job growth for the profession between 2014 and 2024. The median income for speech-language pathologists in 2015 was more than $73,000.
"Kean University wants to position and prepare its students for the careers of the future," said Dawood Farahi, Ph.D., president of Kean University. "We now have an affordable, high-quality program to help speech-language pathologists build careers in both healthcare and educational settings."
Kean's SLPD will be a rigorous clinical doctoral program that trains advanced healthcare practitioners and future university clinical faculty in communication sciences and disorders. The program will emphasize the social and cultural aspects of communication sciences and disorders in health professions and in educational services to underserved populations.
"The Doctor of Speech-Language Pathology is our newest doctoral degree in allied health, following the start of the Doctor of Physical Therapy in summer 2016," said Jeffrey Beck, Ph.D., dean of Kean's Nathan Weiss Graduate College. "Since we have a vibrant master's program and a very active clinic, we anticipate a similarly dynamic doctoral program. We expect strong interest throughout the region."
With the SLPD, Kean now offers a terminal degree to complement its long-standing academic programs in the School of Communication Disorders and Deafness.
"We are the oldest program in the state and the only one with a full undergraduate and master's program, so offering a doctorate program is a natural progression," said Martin D. Shulman, Ph.D., executive director of the School of Communication Disorders and Deafness. "We are excited to offer a clinical doctorate as it is a unique and groundbreaking new trend for doctoral education."
For more information, contact Professor Mahchid Namazi, Ph.D., at mnamazi@kean.edu or 908-737-5804.
Tagged