Kean Arts Philanthropists to Receive Honorary Degrees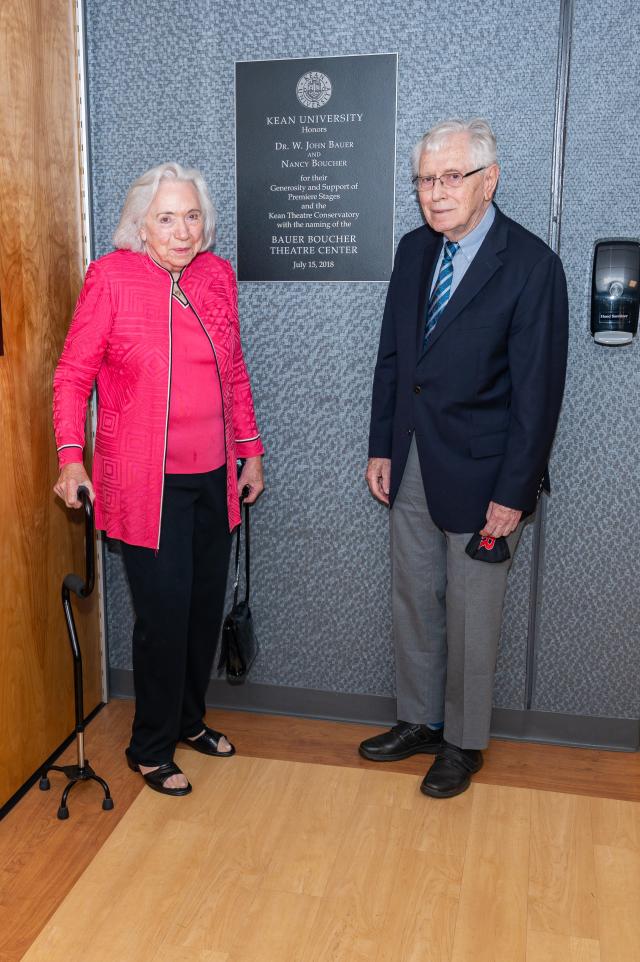 Two retired educators who are longtime supporters of the performing arts at Kean University, siblings John Bauer, Ph.D., and Nancy Boucher, will be presented with honorary degrees during Commencement 2022.
Bauer, a retired Kean professor, and Boucher, formerly a public school teacher, both live in New Providence. They will each receive an Honorary Doctor of Humane Letters degree during Kean Undergraduate Commencement, Thursday, May 19, at the Prudential Center in Newark.
The siblings are revered for their philanthropy and contributions to Kean, where they created endowed scholarships and are forever linked with Kean's Premiere Stages through their support of both the Bauer Boucher Theatre Centre and the visionary Bauer Boucher Playwright Awards.
"The generosity of John Bauer and Nancy Boucher has made an enormous impact on Kean University, supporting the University's commitment to the humanities and the performing arts," said Kean University President Lamont O. Repollet, Ed.D. "It is with utmost respect and gratitude that we recognize both of them as Kean's honorary graduates."
Bauer and Boucher have supported aspiring playwrights, provided scholarships to students in the School of English Studies, and contributed generously to Kean's arts facilities. Their recent major gift supported construction and renovation of dressing rooms and bathrooms in Vaughn-Eames Hall.
Bauer said he is honored to be recognized by Kean. "That is where I spent my whole teaching career," he said, adding that he also performed in plays at Kean, including South Pacific. "I had a wonderful time teaching there. I'm honored they remember all of the things we did."
Boucher is modest about the contributions she and her brother have made to Kean but added that she is proud to be counted an honorary Kean graduate.
"I'm very excited about it," said Boucher. "I never expected anything like this. We have always been involved in the arts; we love to see all of the things Premiere Stages does under the leadership of John Wooten."
John J. Wooten, producing artistic director of Premiere Stages at Kean, said the impact of their philanthropy is immeasurable.
"John and Nancy have proved to be two of Premiere Stages most valued patrons," he said. "Their support has made possible much needed renovations to our performance facilities and has afforded our students and Premiere's affiliated artists with the enhanced professional development they need to excel in the theatre industry."
Bauer received his bachelor's degree from Rutgers University and master's from New York University. Following a stint in the military, he attended Newark State College, Kean's predecessor, earning a teacher's certificate in secondary education.
He taught high school English, and while taking graduate courses, discovered his passion for higher education. He became an assistant professor at Newark State College in 1965, then rose to professor and ultimately remained at Kean until 2004. During that time, he also earned his doctorate in English studies from NYU.
Bauer was an actor, editor and community volunteer, who had numerous affiliations ranging from the Shakespeare Theatre of New Jersey to the Newark Museum. At Kean, he was active with the Visual and Performing Arts Advisory Board and The Arts Council, and served as a member of the Kean University Foundation Board of Directors.
Boucher earned her bachelor's degree from Trenton State College, now The College of New Jersey, and master's from Seton Hall University. She was also very involved in community service, serving as president of the Summit Playhouse in Summit and as a member of the Board of Directors of Kiwanis International, New Jersey District, among others.
She joins her brother in supporting Kean performing arts, notably Premiere Stages, establishing the Estelle Ritchie Scholarship endowment to support students in education and theatre, and generously supporting the Walter & Wilda Bauer Endowed Scholarship to benefit students in the School of English Studies, which is named for the siblings' parents.