Kean Associate Professor Patents New Computer Password System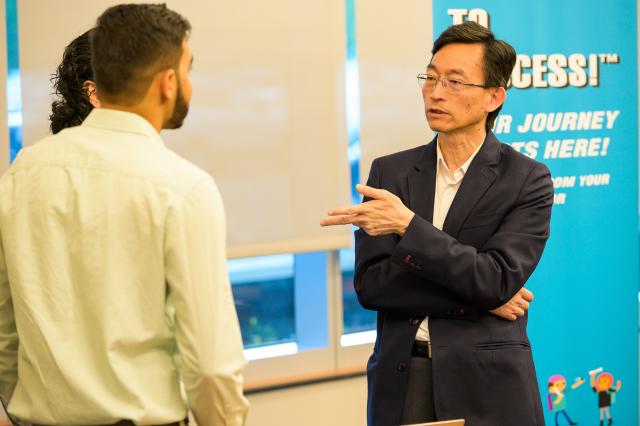 A new authentication system that could solve a common problem of the digital age — the need to remember multiple passwords — has been patented by an associate professor in Kean's School of Computer Science and Technology. 
The "single-factor dynamic authentication system," officially known as U.S. Patent No. 10,749,860, was developed at Kean by Associate Professor Jing-Chiou Liou, Ph.D. It was patented in August.
"Secure passwords are often difficult to remember, and people have multiple passwords and usernames," said Liou, who does research in cybersecurity and software engineering. "This system lets a user choose a virtual one-time password, and have the security level of different random passwords."
Authentication is the process of certifying credentials each time a user logs in to a secure computer system or service.
Liou's invention allows people to keep track of fewer passwords. It generates different random passwords by scrambling the characters each time a password is typed into a device.
"If you type '1234' following the keypad layout, your phone may actually send '7258' to the remote site," he said. "Through my system, even if a password is stolen, the attacker cannot reproduce the same keypad layout, and cannot generate the same password as the legitimate device." 
It would improve security for both companies and users, Liou added. If there were a data breach at a company, a hacker would be unable to reproduce all the scrambled passwords.
Executive Director of the School of Computer Science and Technology Patricia Morreale, Ph.D., said the school is "delighted" by news of the patent.
"Dr. Liou is an outstanding researcher and mentor for our students," she said. "This patent illustrates our active research community in computer science and information technology."
She said Liou has always included students in his research.
"Many of our students have ideas that could lead to a patent of their own someday," she said. "Having Dr. Liou teaching at Kean means that our students will have direct access to an innovator."
Keith Bostian, dean of Kean's New Jersey Center for Science, Technology and Mathematics, oversees the Intellectual Property Committee at Kean. He said Liou's work "has the potential of becoming an established alternative to secure types of user authentication."
While he said there are no other patent applications in progress at Kean now, "I expect that there are more inventions that will reach this point in the future as research at the university increases."
The patented system could be licensed by companies that provide secure services, Liou said, and would be automatically installed on the device of a user who signs up for a particular service.
Liou said he has spent about 10 years working on authentication techniques, and one year on the latest invention. He is continuing to research authentication techniques.
He also works with Kean students on research for Kean's annual Research Days, teaches graduate capstone courses, and was the recipient of the 2017 Kean Graduate Faculty Award.
Tagged