Kean-based Bioscience Companies Contribute to COVID-19 Research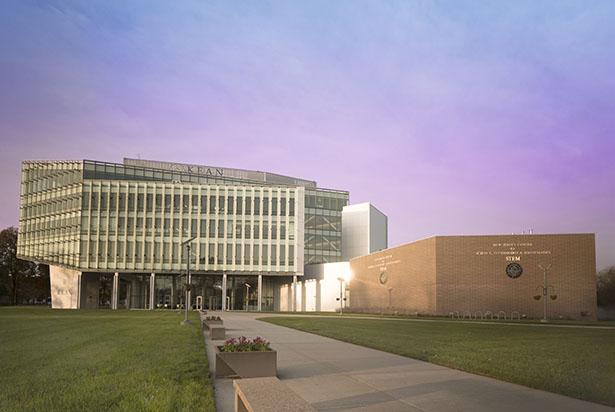 Two companies based in Kean University's STEM Building are part of global efforts to develop COVID-19 tests and treatments.
MDSeq Inc. and Eton Bioscience New Jersey are both part of the nonprofit Institute of Life Science Entrepreneurship (ILSE) at Kean University. ILSE is a life science technology accelerator, providing research and business support to entrepreneurs, and academic and biomedical institutions.
"The COVID-19 pandemic is demonstrating the important role of science in protecting and preserving human life," said Keith Bostian, Ph.D., dean of Kean's New Jersey Center for Science, Technology and Mathematics and ILSE's chief executive officer. "It challenges us to continue to find ways to support the work of science entrepreneurs."
MDSeq, in collaboration with New York University scientists, is working on a next generation COVID-19 test, with the goal of increasing the testing capacity of a diagnostic laboratory by 50- to 100-fold. The "high-throughput" method analyzes saliva to detect the RNA genome of the novel coronavirus that causes the disease.
"We would like to contribute to making available the new generation of diagnostic tests that will have sufficient scale and sufficient sensitivity to change the entire dynamics of the battle against COVID-19," said Dmitri Rebatchouk, Ph.D., CEO of MDSeq. 
When perfected, Rebatchouk sees the MDSeq test being used in large-scale settings, such as community-wide testing; at companies or organizations testing their entire staff; or at entry points – testing every passenger arriving in an airport, for example. The goal would be to detect the virus before the infected person is symptomatic and becomes contagious.
"Our objective is to be able to rapidly create and validate new diagnostic tests to address emerging threats, and have them available for deployment at a massive scale in short order," he said. "We are thinking about the next pandemic. As awful as this coronavirus is, the next pandemic could be far worse. The next time, we should be ready."
At Eton Bioscience New Jersey, researchers are providing the company's clients, including the Columbia University Vagelos College of Physicians and Surgeons, the Icahn School of Medicine at Mount Sinai and Memorial Sloan Kettering Cancer Center, with DNA sequencing and PCR primer synthesis, which studies short DNA fragments, in support of their efforts to develop COVID-19 tests and treatments.
"You can think of it as the first few bricks for a building," said Henry Geng, branch manager of Eton Bioscience New Jersey. "By providing high quality and timely services, we hope to speed up COVID-19 research and contribute to future breakthroughs."
Eton Bioscience is seeking regulatory permission to assist in coronavirus research more directly, including supporting test kit manufacturers and university testing labs.
"ILSE was created to support companies on the leading edge of bioscience breakthroughs," ILSE President Thomas Richardson said. "COVID-19 presents an incredible challenge at the present time, so that is where many ILSE companies want to apply their expertise."