Kean to Celebrate 2021 Commencement on Campus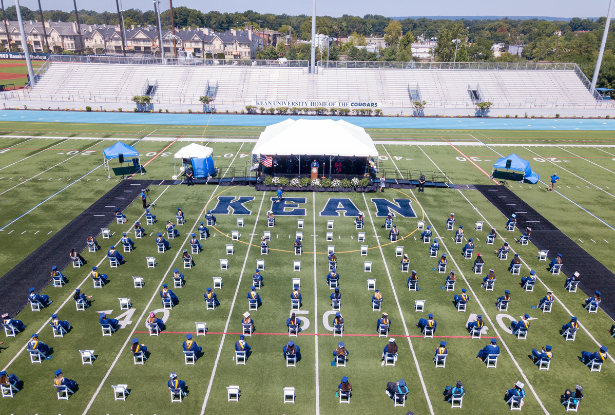 Kean University will celebrate the Class of 2021 in a series of in-person Commencement ceremonies beginning May 12 at Alumni Stadium on the Union campus.
Kean President Lamont O. Repollet, Ed.D., said graduates will get the chance to walk across the stage and celebrate their accomplishment in front of family and friends.
"Graduation is a huge milestone for any college student but particularly for the many at Kean who are the first in their families to go to college," Repollet said. "Our team is working hard to prepare ceremonies that are both memorable and safe as we continue to navigate the pandemic. Last year's outdoor ceremonies were an unqualified success, and we are confident that this year's graduating students will also feel celebrated."
Ceremonies will run from May 12 through May 16, with rain dates scheduled as needed. Undergraduate and graduate students, including doctoral students, will be invited to participate.
The University will release further details about registering for commencement to students during the Spring semester. The number of tickets available for each graduate will be determined based on state and federal health guidelines. 
COVID-19 safety protocols will be strictly followed, including adhering to capacity restrictions, social distancing and face covering requirements.
All ceremonies will be live streamed for guests or other members of the Kean community who are unable to attend in person.
Qualified students must apply for graduation by February 19. Details are available on the Graduation Information webpage. 
The University conducted seven in-person ceremonies for the Class of 2020 at Alumni Stadium in July and will follow a similar model for the Class of 2021.
"One of the true highlights of last summer for me was watching so many of our Kean students get that chance to cross the stage to the cheers from their families," said Ada Morell '97, chair of the Kean Board of Trustees. "The pandemic has been very challenging for students, particularly those who are taking remote courses during their final semesters in college, and we are committed to giving them a ceremony to remember."
For more information, visit kean.edu/commencement.