Kean COVID-19 Diagnostic Lab Now Testing for Omicron Variant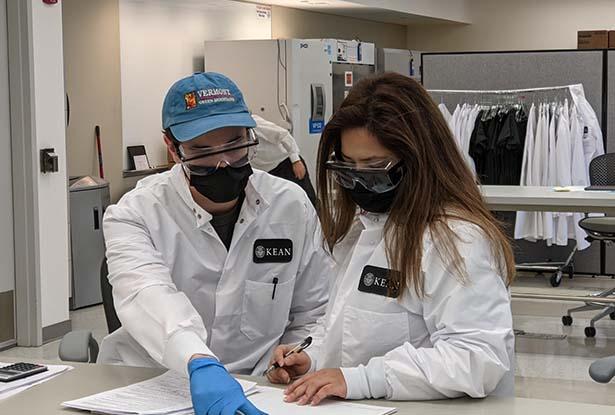 Kean University's COVID-19 Diagnostic Lab recently began genomic sequencing to detect the Omicron variant, which has raised alarms worldwide as coronavirus cases spike around the globe.
"Kean University has set itself apart in our COVID-19 response and our collaboration with the County of Union," said Kean President Lamont O. Repollet, Ed.D. "Our COVID-19 Diagnostic Lab now plays a critical role in keeping tabs on the virus' mutations to inform the public and provide key information to health officials."
The additional surveillance for the latest COVID-19 variant began last week. Every COVID-positive sample at the Kean lab is now sequenced for the Omicron variant, which was first identified in South Africa in late November.
"There's international concern about the spread of the virus," said Keith Bostian, Ph.D., dean of Kean's New Jersey Center for Science, Technology and Mathematics where the lab is located. "The New York-New Jersey area is an obvious likely target for initiation and spread within the United States. We felt that we needed to be at the forefront, with a sentinel effort to detect Omicron when it occurs in Union County."
So far, the Kean lab has not found Omicron in any of the COVID-positive samples it has processed, but Bostian and Director of Lab Operations Bob McLaughlin, Ph.D., believe it is only a matter of time.
"My expectations are we will see it, definitely," McLaughlin said. "Unfortunately, I would expect to see it probably within this week or next week as sequencing ramps up."
The federally certified lab opened at Kean in early January 2021 in an effort to speed results for the County of Union COVID-19 testing site that continues to operate on the Union campus. At the lab, up to 2,000 tests from throughout Union County, including Kean's campus, are processed each week, resulting in 30-50 positive cases weekly. It takes 3-4 days to sequence a sample and identify variants.
"If there was a desire at the state level, or broader, to do more substantial COVID sequencing like some European countries, we have the capacity to increase what we're doing," said Bostian, who noted the lab also provides important research opportunities to Kean graduate students.
Early data on the Omicron variant show that it may be more transmissible, but perhaps causes less serious illness. Bostian said more data are needed, and the Kean lab is helping by providing its genomic sequencing results to health officials at the county, state and federal levels.
"It's important to find out what's going on in the community. Also, at the same time – we know these variants, but if we continue with the surveillance in real time, we know what the next variants are, that might be coming up, the same way the Omicron variant showed up," McLaughlin said.
Since it began operations, the lab has identified every variant that preceded Omicron, including the Delta variant, which continues to be the dominant strain of COVID in New Jersey and the United States.