Kean Environmental Science Classes Are Reducing Plastic Waste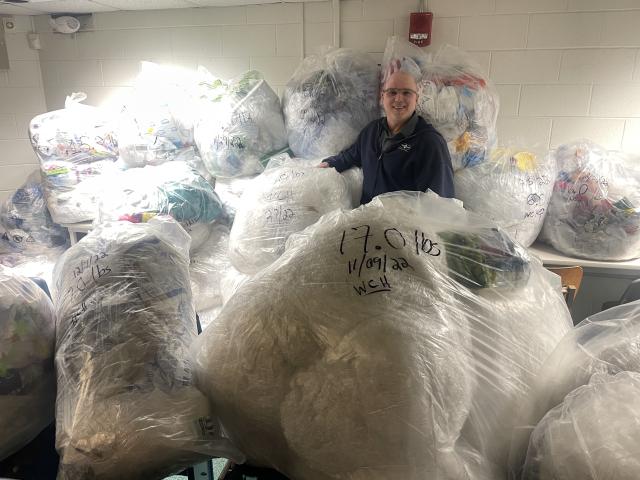 If all goes well, Kean will soon have a new bench on campus made from recycled plastic, thanks to a class project underway in environmental science classes.
Lecturer Will Heyniger and his students at The Dorothy and George Hennings College of Science, Mathematics and Technology have collected hundreds of pounds of plastic waste this semester – shopping bags, packaging, bread bags and more – for a program sponsored by Trex, a company that makes decking from recycled materials.
Heyniger and his classes amassed about 430 pounds of plastic as of mid-December. They expect to reach their goal of 500 pounds by the February deadline, qualifying Kean for a free bench provided by Trex.
"This project empowers students to elevate their knowledge of the volume of plastic the world generates and helps solve the plastic waste issue," said Heyniger, who teaches environmental science, meteorology and sustainability. "Plastic is a huge problem. Hopefully this will spur students to seek out less plastic-intensive options. Consumer choices have impact."  
Daniela Shebitz, Ph.D., chair of Kean's Department of Environmental and Sustainability Sciences, called it a "powerful initiative to recycle 500 pounds" of plastics. Even more important, she said, is raising awareness of the amount of plastic used every day and how little is recycled. The project can also spur research on consumer behavior, environmental impacts and more.
"When students are confronted with a challenge such as this, they take it upon themselves to not only break the cycle of single-use plastic dependency, but also to become advocates in getting friends, family and others to stop their habits of throwing everything away," Shebitz said. 
"We need to learn through this project, not just as citizens of this fragile planet, but as scientists looking to develop a more sustainable future," she said.
Heyniger found the Trex program online and said his students, about 100 in four class sections, have embraced it.
Students encourage family members to save plastic, collect it at their jobs, and lug bags of plastic to class. Heyniger stores, weighs and tracks the total, and delivers shipments to a Trex drop-off point.
Katelyn Walsh of Clark, a dual enrollment freshman at Kean and senior at Union County Vocational Technical School, works at a card and gift store. She's contributed bubble wrap, plastic bags and more, sometimes so much plastic that other students have to help her carry it.
"Everyone contributed, which shows they care," she said.
Kean junior Morgan Douglas, an early childhood education major from Dunellen, brought in large quantities of plastic thanks to her girlfriend, who works at a big box store.
"When she mentioned I was collecting plastic for class, her boss offered to load up my car with bubble wrap and the plastic bags companies wrap their products with. I've had to make two trips of four huge bags each, because it didn't all fit in my car," she said. 
"I like knowing that my small contribution could make a difference," Douglas added.
Collection will be suspended during Kean's winter break, but will resume in January, Heyniger said. Plastics can be delivered to a drop box outside Heyniger's office, C-319 in George Hennings Hall.
In the spring, he hopes to start again.
"Wouldn't it be great if every semester we could earn a new bench for Kean," he mused, "that would reduce the cost needed to buy benches, while cleaning up plastic pollution?"