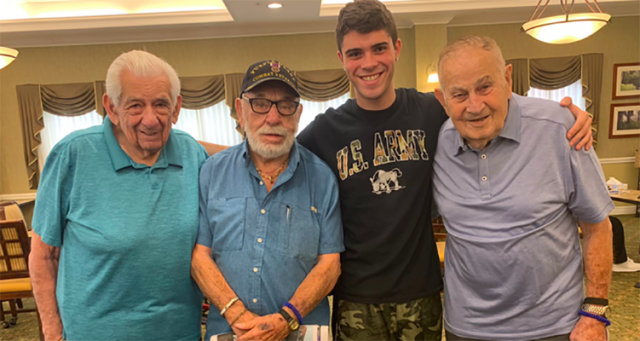 Michael Naya hopes to be a history professor one day. While the Kean freshman pursues that professional dream, he is doing the work of a historian, recording the military experiences of World War II veterans from around the country.
Since the age of 14, Naya has interviewed more than 100 World War II veterans to capture their oral histories of the war and one day preserve them in a book. Now 18, the history major from Kenilworth is a founding member of the Young Historians Program through the group D-Day Squadron.
"I want you all to remember the thousands and millions of people who served in World War II. These were the quiet heroes," Naya said. "Every Memorial Day, we honor those who died, and their stories are often widely known, but we very rarely remember those who came back from the war and built our communities."
Naya said getting a book about the Titanic in first grade ignited his interest in history. Then, when he was 14, he watched a video about two World War II veterans reuniting after 70 years. 
"I looked over at my mom and said, ''Mom, I want to interview these veterans,'" he said.
His mother connected him with a family friend, John Rembish, who served in World War II, and Naya's passion for interviewing veterans from the Greatest Generation flourished. By reaching out to veteran-related associations, he has talked with veterans across the country.
One of them is 95-year-old Chuck Brown of SeaTac, Washington, who saw combat with the 12th Armored Division in Alsace, France, and helped liberate concentration camps during his three years in the army. He calls Naya a "close friend."
"I think the world of him. He is 18 years old and in his first year of college. I am 95 years old, but we talk on equal terms. For me, it is a wonderful experience. I can't get enough of the guy. There is no age difference when we speak," he said. 
Brown, who was drafted at 18, shared with Naya his recollections of the fear, the "terrible cold" and the lack of sleep that dominated his time in the war. 
"The only reason that a guy like myself served was for the 12 guys in the squad. You weren't serving for some Hollywood reason," he said. "You were scared to death, and the only thing that meant anything to you were the guys next to you. You would do anything for them."
Through the D-Day Squadron, a group of owners and operators of Douglas DC-3 vintage aircraft and World War II veteran airplanes, Naya is developing the Young Historians Program.
"They want to educate young children, teenagers and young adults on World War II through peer outreach, and I find that to be a great idea," Naya said. "It's our job as the next generation to carry on the torch of preserving that memory."
Lyndse Costabile, director of corporate relations, communications & marketing at the D-Day Squadron, said Naya brings experience, innate talent and a passion for history to the Young Historians Program.
"He's very persistent and passionate. That persistence is what sparked our interest in him. He is very charismatic, just a genuine, good-hearted person with a great soul, and those are the types of people we like to surround ourselves with and involve in our efforts," she said.
Naya hopes more Kean students will get involved in the project, something that Adjunct Professor John Lestrange, who has Naya in his World of History class, endorses. 
"I absolutely wish that more students were involved in projects like this. Oral histories like what Michael is conducting are very important primary sources, and there are so many historic events that we can record this way," he said.
With plans to become a high school history teacher and, ultimately, a college history professor, Naya said he chose Kean because of its outstanding reputation for educating teachers. While he hasn't yet set foot on campus this semester as he learns remotely during the COVID-19 pandemic, Naya said he is having a great experience. "I absolutely love it," he said.
Right now, Naya is focused on finding and interviewing survivors of the attack on Pearl Harbor, which launched the U.S. into the war. 
"There are still so many men and women out there in our own communities who've never told their stories. They never wanted to talk about it. They came home. They put their duffel bags away. They folded up their uniforms, and they put the war behind them," he said. "I'm glad that I'm able to keep in touch with these eyewitnesses. How many people my age get to say they spoke to a World War II vet? I think it's a privilege and an honor I get to do work like this."