Kean Galleries Focus on Democracy This Fall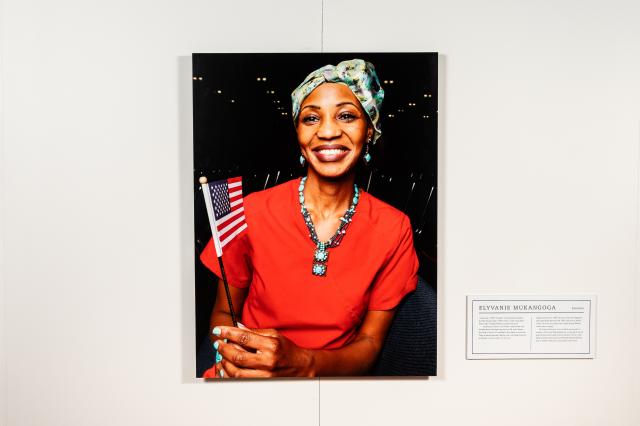 Kean Galleries is shining a light on democracy and politics as gallery spaces across the main Kean University campus feature exhibitions on voting, immigration, and political graphics and cartooning.
"This fall marks a critical time for the nation as we experience political polarization, civil unrest, injustice, sickness and uncertainty, amid a general election," said Lynette Zimmerman, acting director of Kean Galleries and executive director of the Liberty Hall Academic Center & Exhibition Hall.
"Through art and history, Kean Galleries looks to cast a spotlight on the issues we are facing and find ways to communicate and work together to create a better outlook for tomorrow."
From the campus art galleries to the Liberty Hall Academic Center, which focuses on history, each exhibition is unique. 
The Newest Americans, exhibited at the Karl and Helen Burger Gallery, features personal stories of immigrants becoming citizens at the beginning of the Trump administration. As the portraits bring each story to life, visitors will notice the color red used throughout many of the pieces, tying together the individuals and their experiences.
In the Nancy Dryfoos Art Gallery, Political Cartoons is on exhibit. Artist Michael Biddle put pen to paper and created political cartoons inspired by the current administration. 
Voting Moments of Change, at the Liberty Hall Academic Center & Exhibition Hall gallery (LHAC), is an original-content exhibit featuring documents from the Special Collections Research Library and Archive focusing on the history of voting. LHAC is located on the historic property of Liberty Hall, built in 1760 by William Livingston, New Jersey's first elected governor. 
In addition, the Human Rights Institute Gallery is hosting a reboot of Art as Witness: Political Graphics 2016-18, a poster exhibit curated by Steve Brodner and Francis Di Tommaso from the School of Visual Arts. Originally on display in February 2020, the exhibit closed early due to COVID-19.
Fine arts faculty member Julie Harris, curator of Ellen Price Legacy Exhibition in the James Howe Gallery located in Vaughn Eames Hall, celebrates notable printmaker Ellen Price and features the work of Price and her former students. Student artworks are presented in the Kean Student Gallery located in Vaughn Eames Hall.
All gallery spaces are open this fall on a limited schedule. Exhibits are also available virtually. Visit kean.edu/keangalleries for more information.
For further detail on specific exhibits, please see below.
Voting Moments of Change
LHAC Gallery  
Liberty Hall Academic Center & Exhibition Hall
An original content exhibit,Voting Moments of Change, provides a brief history of the tumultuous nature of a democracy that engages its people at a fundamental level, and features documents from the Special Collections Research Library and Archive. Voting is the cornerstone of our democracy and the fundamental right upon which all our civil liberties rest. Responsibility ultimately lies in the hands of the people to protect the freedom to vote, ensure the safety of those who do exercise their right, and demand equality in process for all. Everyone's voice matters. Make it count. View images @keanscrla and @keangalleries on instagram.
The Newest Americans
Karl and Helen Burger Gallery
Center for Academic Success
Offering a unique look at U.S. citizenship and the immigration process in the era of President Donald J. Trump, The Newest Americans is open in the Karl and Helen Burger Gallery located in the Center for Academic Success until November 24, 2020. The traveling exhibit features 29 portraits by Sam Comen and interviews by Michael Estrin, capturing the experiences of immigrants from 23 countries of origin and promoting discussion on America's legacy as a nation of immigrants. Following the 2016 election, America's political climate was polarized by the Trump administration's efforts to build a border wall, enact a Muslim ban and enforce mass deportations. Against this backdrop, Comen and Estrin set out to capture the experiences of new Americans in the moments following naturalization ceremonies in February and March of 2017. The resulting portraits and interviews led to the development of the traveling exhibit created in partnership with the California Museum and Exhibit Envoy. View images @keangalleries on Instagram.
Political Cartoons
Nancy Dryfoos Art Gallery
Nancy Thompson Learning Commons
"I am not a professional cartoonist, but my love of drawing gave me an outlet for the pent up anger I felt in 2016 when the current administration arrived," said Michael Biddle. The great tradition of artists engaging in political commentary includes Goya, Daumier, George Grosz and many others who I admire and have influenced me. View more of his works @biddle.michael on Instagram and @keangalleries.
Art as Witness: Political Graphics 2016-18
Human Rights Institute Gallery
Human Rights Institute
In 2018, at the School of Visual Arts (SVA) in New York City, Art as Witness was first organized and exhibited as a response to the changing political landscape in the United States. Graphic arts, political satire, cartoons, and illustration are the tools that make up the vocabulary of these creative professionals. Artistic license is the credential that society bestows on their voices — often ignored, but sometimes celebrated on a scale of great impact and cultural influence. Art as Witness was curated by illustrator, caricaturist and SVA faculty member Steve Brodner and SVA's Director of Galleries Francis Di Tommaso. Learn more @keangalleries and @kean_humanrights.
Ellen Price Legacy Exhibition  
James Howe Gallery
Vaughn Eames Hall
Curated by Julie Harris, professor at Kean University, this exhibition celebrates the 33 year career of Miami University printmaking professor, Ellen Price, by displaying her works alongside works by her former students. Price is known as both an artist and an educator. She received her MFA from Indiana University in 1986 and has had a successful career exhibiting her artwork nationally and internationally. This exhibition features a survey of Price's work and a selection of her former students' work including: Ashley Carroll, Katherine Fries, Steve Garst, John Hankiewicz, Julie Harris, Alan Pocaro, Gabi Roach, Kate Rowecamp, Billy Simms, Jackie Stephens, and Albert Webb. Learn more at @keangalleries and @keanfinearts on Instagram.
Tagged