Kean Galleries Showcase Movement Exhibit Curated by HurtJohn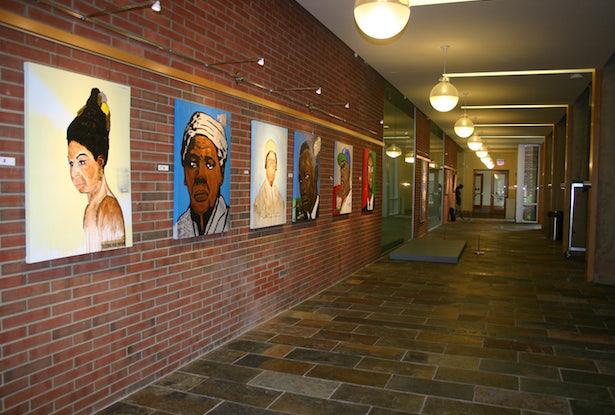 Kean University Galleries has partnered with HurtJohn to display the compelling interactive exhibit Movement, which explores social justice movements and Black Lives Matter. 
"We want people to go in there and have an emotional connection to what is going on and is relevant currently in our world daily," HurtJohn creator and organizer John Hurtado said.
Movement includes a unique representation of Trayvon Martin, the unarmed black teenager who was killed by a neighborhood watch volunteer in Florida in 2012 as he walked to his father's house. In Shattered Dreams by artist Sean Hassett, Martin's face is replaced with a shattered mirror, so viewers can see themselves within the subject and reflect on the young life lost. In another jarring piece, The Sandy Hook Shooting and The Do-Nothing Congress by artist Jo-El Lopez, a portrait of a young boy is pieced together from hundreds of ripped up lottery tickets.
Hurtado, a writer and former Kean University student, wanted to bring this exhibit to the campus because of the University's rich racial diversity and the personal growth he experienced while attending Kean.
"For me, I found freedom at Kean," Hurtado said. "I was always a writer deep down, but I had nowhere to express my writing. Kean's programs and its students allowed me to become the person I am today, and ultimately that created a gallery exhibition at Kean."
The exhibit also includes paintings and sculptures of African-American icons who advanced the cause of freedom and social justice. Writings, poems, and comments from viewers will be collected and displayed to continue the exhibit's interactive element.
HurtJohn is an art movement comprised of a collective of well over 300 artists of all kinds -- dancers, actors, designers, singers, songwriters, poets, rappers, and other like-minded individuals hoping to revolutionize, recreate, and rejuvenate the art world.
Photo Caption (Top): Movement, curated by HurtJohn and on display at Kean University's Nancy Dryfoos Gallery and Human Rights Institute, is open free to the public Monday - Thursday, 10 a.m.-8 p.m. from now until September 28.