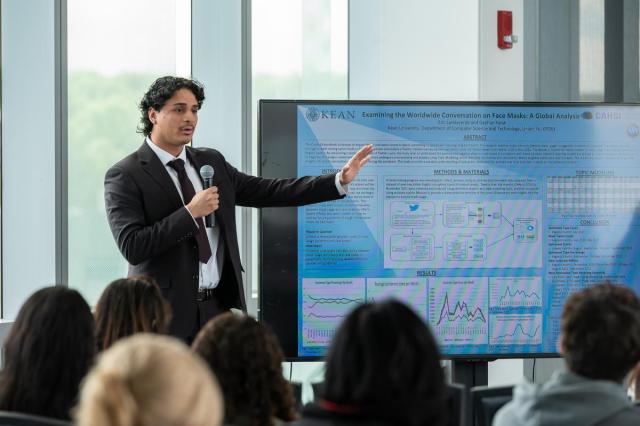 Eric Landaverde didn't see college in his future after dropping out of high school during his sophomore year, in what he called "a rebellious act" that reflected his disdain for education at the time.
But eventually he was encouraged by his mother, whom he calls "my biggest supporter," to get his high school equivalency diploma and give Kean a try. At Kean University, he found his passion for research.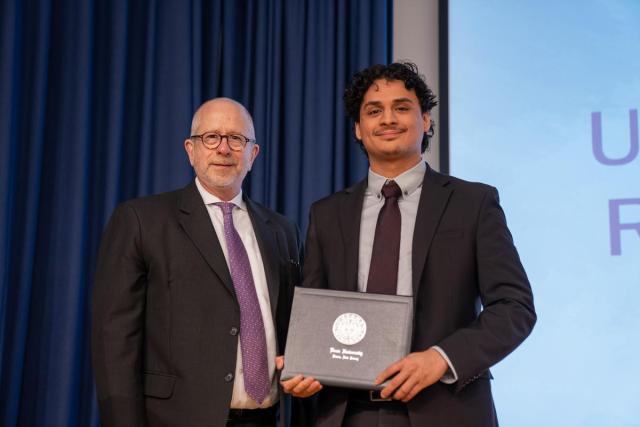 The 2023 computer science graduate conducted research in all four years at Kean and was named the University's Undergraduate Researcher of the Year at Research Days in April.
"My biggest challenge in high school was finding something to apply myself to and being interested and not falling for the distractions around me," said Landaverde, of Elizabeth. "The faculty here, and admissions, were such a good support and were welcoming and supportive of me. They helped me see the value of higher education. Ever since freshman year when I started researching with Dr. (Jean) Chu, it opened my eyes to applying myself."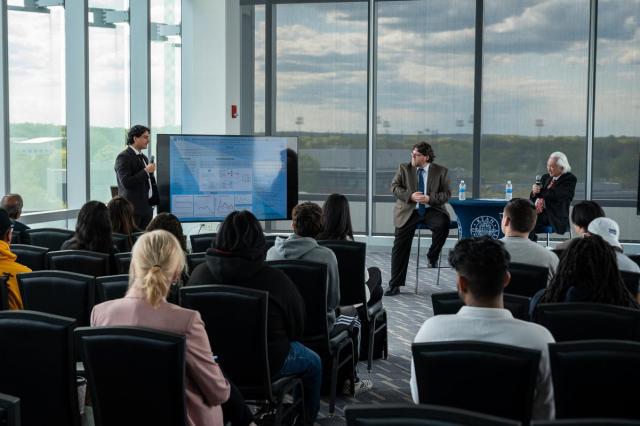 While at Kean, Landaverde delivered more than 20 research presentations, and his research was also published at professional conferences. He was one of four Kean student researchers who presented their work to renowned physicist Michio Kaku, Ph.D., before Kaku's recent Distinguished Lecture at Kean. Landaverde shared his study of public sentiment around wearing face masks and how it correlated to compliance with public policy. 
Assistant Professor Daehan Kwak, Ph.D., mentored Landaverde through all of his years at Kean. Kwak calls him a "great ambassador for Kean University" who showed leadership in promoting research among students and participation in research initiatives. 
"Eric embodies the best of Kean students through his passion for learning, commitment to excellence and leadership qualities," Kwak said. "He has shown that with hard work and dedication, students can achieve remarkable success in research and academic pursuits. It has been a pleasure to witness Eric's growth and development as a researcher, and I look forward to seeing where his continued dedication and hard work will lead him."
Landaverde, a first-generation college graduate and first-generation American with family roots in El Salvador, will continue his education at Kean in the Fall. He will pursue his master's degree in information systems and plans to one day earn a Ph.D. His ultimate goal is to be an entrepreneur in learning analytics and software development.
"One of my deepest desires is to develop a software company that opens the gates for students to get a higher education at an affordable rate anywhere in the world," he said.
Landaverde said he never doubted that he would achieve great things but admits he gets emotional thinking about his educational journey.
"It makes me cry every time," he said. "There have been very few times where I talked about it openly, but it's truly astounding. I feel honored to be in the position I'm in and extremely lucky to have the support of people who see potential in me. 
"To look back at where I came from, and who I was to who I am now, it is such an amazing feeling," he said. "I hope to be a role model for those, not only around me from similar backgrounds, but to anyone who wishes to do great things."