Kean Grad Overcomes Obstacles to Become Motivational Speaker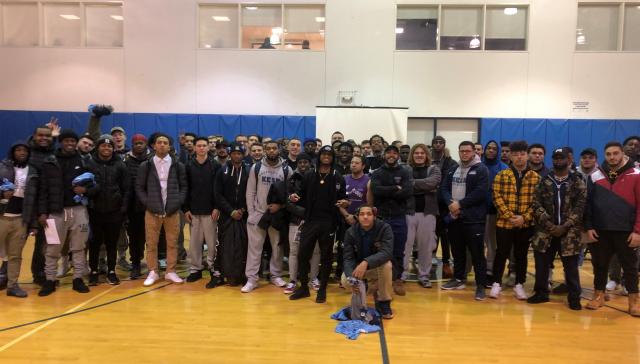 Brad Butler II experienced his parents' substance abuse, his own academic struggles and finances so strained he sometimes slept in his car when he couldn't afford the gas to drive home. 
But instead of letting those obstacles defeat him, the 2015 Kean graduate used them as motivation. Butler, also known as "B-Rad," is now an award-winning motivational speaker, student advocate and success coach. 
"My message is, as long as you tap into your gift, the opportunities are limitless," he said. "Most people feel they're stuck in place and bound to one thing or another, but that's not true." 
Butler has received numerous awards for his work and was recently interviewed on the Fox Soul Streaming Network. The founder and CEO of Brad Butler II & Associates LLC, he speaks openly about his challenges. He saw his parents deal drugs and then become addicts themselves. He moved in with his grandparents and landed in special education classes. He said he was told he would never go to college. 
But he also found motivation in his life. He developed confidence by playing football. His parents beat addiction, and Butler cheered his mother on as she went to college, earning both her bachelor's and master's degrees. 
"Seeing her graduate, I thought some of that has to be inside me," he said. "My mom's blood runs through my veins." 
Butler, who graduated from Mercer County Community College before Kean, said he majored in business because of his family's financial struggles. For a time, he said he worked two jobs and sometimes slept in his car because he couldn't afford gas to drive home.
"I figured if I could learn how money worked and generate revenue, I could create something for myself and my family," he said. 
His first jobs were in sales, where he realized what he liked most was public speaking."Once that happened, I thought, I know what I'm going to do," he said. "I found my purpose."
Butler has spoken at numerous schools, including Kean, plus business groups, sales training sessions and more. A former Kean football player, he ought his message to the Cougars.
"Dedication and commitment go hand in hand for this young man," said Kean Head Football Coach Dan Garrett, who said Butler won the "Cougar Award" for hustle and effort in 2011.
"When he spoke here, the team hung on every word. He was them nine or 10 years ago," Garrett said.
Since the COVID-19 pandemic, Butler has gone from handling dozens of speaking engagements per year to doing more virtually. He has used the down time to write — he is at work on his second book — and gain further training. 
"My long-term goal is hoping to get back to normal," he said. "I felt I was just getting to where I wanted to be, then the pandemic hit. Speaking life into people, that's what I want to do."
Tagged