Kean Graduate Is Building His Career on Social Media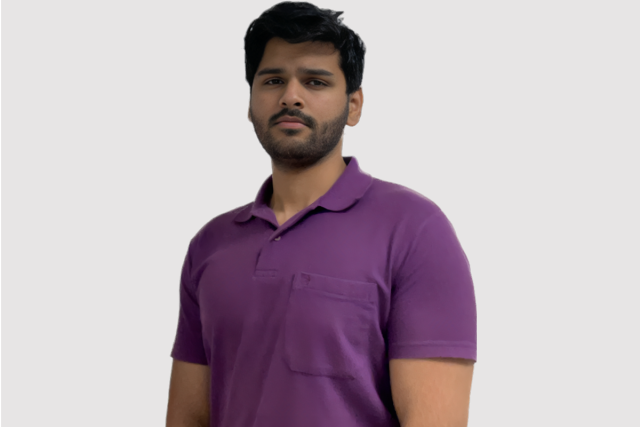 Kean graduate Agranay Dhondiyal is forging a new and inventive career path in digital media.
Dhondiyal, a January 2023 graduate from Kean who earned his Bachelor of Science degree in business marketing, has created a product – "digital badges" – that he said will increase social media engagement for universities and other organizations.
"Digital badges allow brands to engage with their audience in a fun and interactive way," he said. "This is a valuable tool for any organization looking to establish a strong and trusted presence on social media."
Dhondiyal uses blockchain technology to create the non-transferrable digital collectibles – an icon of a graduation cap for graduating students, for example – that social media users can obtain and post on their accounts. The technology keeps the badges from being copied, so only the organization or university can issue them.
Users can store and display badges on their own social media pages in "digital trophy cases," to show their university pride or promote an accomplishment.
Dhondiyal, who lives in Old Bridge, grew up in India and immigrated to the U.S. with his family when he was in eighth grade. He said the move was a "major change" for his family, but they were "determined to make the most of it."
"I'm grateful for the opportunities that living in the U.S. has brought me," he said.
Dhondiyal found his passion for technology at Kean, and developed the project in an entrepreneurship class in the College of Business and Public Management. He also created and was president of the University's Web3 club, which explores uses of blockchain technology. 
Kean Associate Professor of Management Kai Wang, Ph.D., taught Dhondiyal's entrepreneurship class and gave him an A for the project. Dhondiyal's success with the concept prompted him to teach himself to code so he could build the digital badges tool.
"He is a good student with initiative and much potential," Wang said.
Dhondiyal entered the project in a new business competition at New Jersey Institute of Technology in December and was one of only eight entrants from among 100 applicants selected to compete. His project was the only one from Kean.
"It was a very competitive event, and he learned much," Wang said. "I am glad he participated."
Dhondiyal now works at Kean Online as an online technologist. His long-term goal is to become a successful entrepreneur. 
"As a first generation entrepreneur in my family, my career goal is to not only build and grow a successful business for generations coming forth, but also make a positive impact on society and the environment through my work," he said. 
He plans to donate some of his profits to charity, while also funding his future projects. "I'm excited to work towards these goals and make a difference through my business," he said. 
Tagged