Kean Graduate Finds Success as Cannabis Branding and Packaging Entrepreneur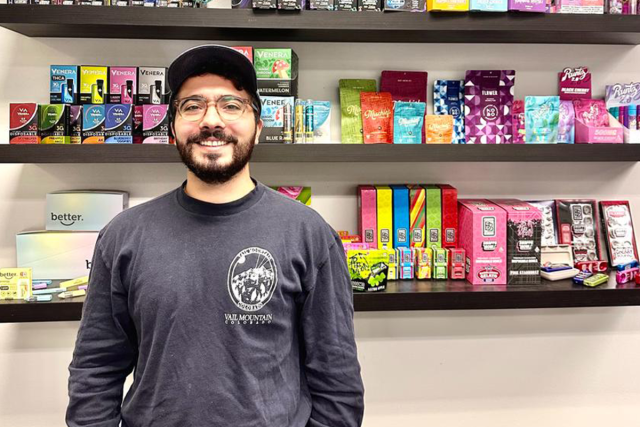 Mike Kapotis '19 got his first taste of entrepreneurship as a child, when he sold bottled water and lemonade to drivers stopped at a busy traffic light near his home.
So the Kean University business management graduate didn't hesitate when a friend suggested they pursue opportunities created by the cannabis industry.
In December 2021, Kapotis and his now-partner, Marco DiGrado, launched MylarMen, a company that creates custom design, branding and packaging for cannabis companies including Flav, Packwoods and BackPack Boyz.
Kapotis left a job as a video investment buyer for Mindshare to start the eight-person Parsippany firm and said he has no regrets.
"Our first work with a large brand was with Snoop Dogg's Death Row Records cannabis brand, and we ended up getting listed on Forbes — a good way to end our first year," said Kapotis, of Bloomfield. "Recently, we were nominated as a top packaging company at MJBizCon. Now, we want to be on the forefront as international markets open up."
Kapotis, who earned his Bachelor of Science degree in 2019, still relies on lessons from his entrepreneurship class at Kean, where he learned to create and execute a business plan. He and fellow student Jenny Caruso won Kean's annual Business Plan Competition for a cell phone-based business card platform.
"Mike is a true entrepreneur," said Shanggeun Rhee, Ph.D., chair of Kean's Department of Management. "He has remained consistent in his goals, persevered with great confidence despite difficulties, gone outside his comfort zone to find solutions and ideas and extended his network — all with a positive and easygoing attitude." 
Kapotis said he was also moved by what he learned in Death in Perspective, taught by Norma Bowe, Ph.D., RN, an associate professor in the Department of Health and Human Performance. Kapotis lost his father while he was taking the class and said he remains grateful to Bowe for her support.
"Michael Kapotis was one of the brightest and most creative, big-hearted and resilient students I have ever taught at Kean," Bowe said. "When his father died, Mike was the pillar of strength for his entire complicated family. Later, I was honored to officiate his wedding to his wife Felicia, and it was amazing to see him so happy and content. Michael will continue to do well because he leads with his brain and his heart."
The oldest of eight brothers, Kapotis was introduced to entrepreneurship by his father, a real estate investor. 
Determined to be self-reliant, he joined the Army National Guard so his father, mother and stepfather wouldn't have to fund his college education. He served in the military from 2013 to 2019, including a deployment to Bahrain, which he said taught him he could accomplish anything.
At Mylarmen, Kapotis successfully took on negotiating, budgeting and audience outreach, although packaging was new to him.
"Mike possesses an extraordinary blend of relentless energy, unwavering determination and visionary foresight that has been a constant source of inspiration to me," DiGrado said. "Our partnership thrives because we each serve as catalysts for the other's growth, challenging ourselves daily to evolve into superior versions of ourselves."
Kapotis said he meets goals by focusing on his business and inner circle, rather than the outside world.
"Focusing on the things you can change is the most beneficial thing you can do for your prosperity, happiness and well-being," he said, "and, in turn, for the lives of the people who are most important to you."
Tagged