Kean Honors Students Who Are First in Their Families to Attend College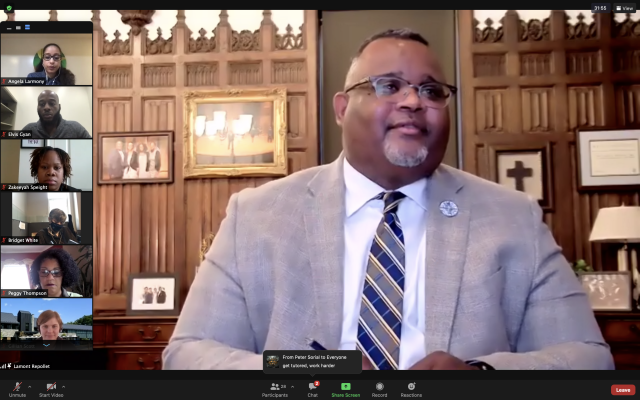 A weeklong series of events at Kean University marking First-Generation College Celebration Day culminated in a virtual address by President Lamont O. Repollet, Ed.D., in which he encouraged first-generation students to "be extraordinary." 
"What is your extra? You have to define it. You have to find that extra and commit to it, create a plan," Repollet said. "Be extraordinary; don't settle for ordinary. I believe in you. I know you can do it."
Childhood education major Crystalbell Ofosu-Morrison attended the first-generation student events and said she took President Repollet's message to heart. 
"My plan is to pursue getting my degree, making my family proud of me, and doing everything that I need to do to get done as a college student," she said. 
Repollet spoke from his own experience, noting that as a first-generation college student who grew up moving from one neighborhood to the next, he felt completely out of place when he got to college. He credits his EEO (Exceptional Educational Opportunities) counselor with helping him to change his mindset, develop a support system, and lay the groundwork for academic success.
Repollet said first-generation students, the first in their families to attend college, will always have a place at Kean.   
"You deserve to be here like everyone else, regardless of your socioeconomic status, your circumstances or your background," said Repollet. "So when you're on this campus, act like you belong. This is your university. Embrace it. Hold it. Contribute. Cultivate it. Know that you can say, 'I'm a Kean University student.'" 
First-generation students make up more than 40% of the University's student population — greater than the 33% national average reported by the U.S. Department of Education. 
To bolster this important subset of Kean's student population, Kean offers a range of support services to first-generation students, from academic advising and mentoring to events and programs. The First Generation Scholars Program connects first-generation students with alumni mentors. Kean's Supplemental Instruction program encourages all students to enroll in challenging math and science courses by placing a student who already aced the course in the class as a mentor, tutor and role model.
Repollet urged students to lean into Kean's support system and get involved in campus life to "fill in the gaps" that may come with being first-generation students. 
"If you work hard, if you put in the time, education can change the trajectory of your life," he said. 
Sponsored by the Office of Student Success and Retention, EEO/EOF, and the Office of the Student Government, First Generation Celebration Week marked First-Generation College Celebration Day, held nationally on November 8. A week of virtual events was held at Kean, including a keynote address by first-generation scholar Daniel Jean, Ed.D., who founded PhinisheD/FinishEdD #WhoGotNext to provide resources for students seeking doctoral degrees. In addition, a panel of faculty and students shared their experiences and advice. The week also included a Dress for Success event, as well as a screening and discussion of a documentary about the first-generation student experience. 
Gabrielle Moorman, freshman theatre design and technology major, said the events served as motivation to achieve.
"Yes, there is a long road ahead of me, and it won't always be easy," she said. "I'll definitely encounter some obstacles, but if I always keep in mind what my goals are and what I want to achieve, I'll be able to do it." 
Tagged