Kean Institute Joins Global Fight Against Antibiotic-resistant Superbugs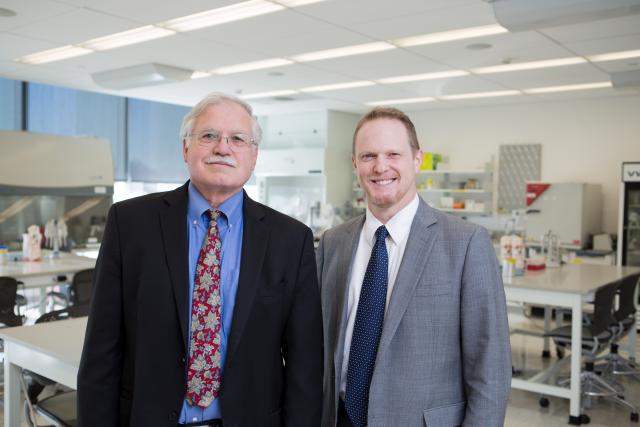 The Institute for Life Science Entrepreneurship at Kean University (ILSE) is joining the CARB-X Global Accelerator Network, an international consortium of committed scientists and experts working to develop new antibiotics, vaccines, diagnostics and other products to fight drug-resistant superbugs.
ILSE and CARB-X (Combating Antibiotic Resistant Bacterial Biopharmaceutical Accelerator) signed a 3-year agreement under which ILSE will serve as an accelerator, providing drug discovery and diagnostics expertise, business strategy and other support to CARB-X's growing portfolio of innovative antibacterial development projects.
"ILSE's agreement with CARB-X will bring increased innovation and companies from around the world to New Jersey," said Thomas P. Richardson, Ph.D., ILSE president. "Scientists conducting research are central to combating the worldwide crisis of drug-resistant antibiotics. We at ILSE help them identify the most promising development strategies and provide assistance to reach the next milestone."
ILSE announced its collaboration with CARB-X on Tuesday, February 26, at its headquarters in Kean University's STEM Building, with leaders from the University and State of New Jersey in attendance.
"CARB-X is one of the most important avenues of the future to develop new antibiotics, vaccines and other treatments yet to be discovered," said Kean President Dawood Farahi, Ph.D. "ILSE's partnership with CARB-X will allow some of these new ideas to come to fruition."
New Jersey Senate Republican Leader Thomas H. Kean Jr. noted that the collaboration between ILSE and CARB-X adds to the state's history of innovation, which includes the discovery of the antibiotic streptomycin in the 1940s.
"Before the development of antibiotics like penicillin, simple infections could be death sentences. We don't want a return to that time. We don't want that to happen anywhere in the world," Kean said. "That's why CARB-X is so important. The partnership between these two organizations has the potential to save billions of lives."
New antibiotics, rapid diagnostics, vaccines and other products are needed urgently to treat bacteria that are increasingly resistant to existing antibiotics. According to the World Health Organization, an estimated 700,000 people die each year worldwide from bacterial infections. In the United States, an estimated 23,000 people die each year from drug-resistant bacterial infections, according to the CDC.
ILSE is the only accelerator in the mid-Atlantic region and is one of only five U.S. organizations in the Global Accelerator Network.
"Each accelerator in the CARB-X Global Accelerator Network delivers tremendous knowhow, and as a group, our accelerators represent an invaluable source of knowledge and expertise in support of the CARB-X portfolio and a forceful ally in the global fight against drug-resistant bacteria," said Kevin Outterson, executive director of CARB-X and Boston University professor of law.
CARB-X, a non-profit, public-private global partnership based at the Boston University School of Law, currently funds more than 34 early development projects in six countries, including new classes of antibiotics and other life-saving therapeutics, diagnostics and vaccines.
"Multidrug resistance is becoming a significant worldwide threat and global health crisis," said Keith Bostian, Ph.D., ILSE founder and dean of Kean University's New Jersey Center for Science, Technology and Mathematics. "Through the CARB-X network, ILSE can help reduce the impact of this health threat as it brings awareness of New Jersey and Kean University's innovation expertise to the global community."
ILSE, located in the epicenter of the New Jersey Life Science Industry Cluster, is unique in New Jersey. It has a proven record of working with entrepreneurs and academic researchers to develop their commercial acumen and advance their technologies from the research lab into successful businesses. ILSE accelerator participants, like those in the CARB-X portfolio, work with seasoned entrepreneurs, business leaders and topic experts to develop expertise in grant writing, company formation, fundraising and operations to help turn their ideas into viable treatments.
"The expertise of the highly-experienced drug accelerator team at ILSE will likely be a game changer for companies in the CARB-X portfolio who need a professional hand to efficiently guide them through the complexities of drug development. For many companies, it will likely be the difference between successfully developing a drug candidate or not," said David S. Perlin, Ph.D., chief scientific officer for the Hackensack Meridian Health's Center for Discovery and Innovation and a partner with ILSE on the project.
ABOUT CARB-X
CARB-X is a global partnership dedicated to accelerating early development antibacterial to address the rising global threat of drug-resistant bacteria. CARB-X funding is provided by USDepartment of Health and Human Services Biomedical Advanced Research and DevelopmentAuthority (BARDA), part of the Office of the Assistant Secretary for Preparedness and Response(ASPR), the Wellcome Trust, a global charity based in the UK working to improve health globally, the UK Department of Health and Social Care's Global Antimicrobial Resistance
Innovation Fund (UK GAMRIF), the Bill & Melinda Gates Foundation, with in-kind support from National Institute of Allergy and Infectious Diseases (NIAID), part of the US National Institutes of Health (NIH). A non-profit partnership, CARB-X is investing up to $500+ million from 2016-2021 to support innovative antibiotics and other therapeutics, vaccines, rapid diagnostics and devices. CARB-X supports the world's largest and most innovative pipeline of preclinical products against drug-resistant infections. CARB-X focuses exclusively on high priority drug-resistant bacteria, especially Gram-negatives. CARB-X is based at Boston University School of Law. https://carb-x.org/. Follow us on Twitter @CARB_X.
ABOUT the CARB-X Global Accelerator Network
The CARB-X Global Accelerator Network is a network of organizations that provide business, scientific and technical expertise and services to CARB-X-funded companies to support their antibacterial research projects. The Network also plays a key role in addressing common challenges facing the antibacterial product development community. Members of the CARB-X Accelerator Network include BaselArea.swiss, Basel, Switzerland; the BioInnovation Institute (BII), Copenhagen, Denmark; the California Life Sciences Institute (CLSI), South San Francisco, CA, USA; the Centre for Cellular and Molecular Platforms (C-CAMP), Bangalore, India; the Foundation for Innovative New Diagnostics (FIND), Geneva, Switzerland; the German Center for Infection Research (DZIF), Braunschweig, Germany; the Institute for Life Science Entrepreneurship (ILSE), Union, NJ, USA; Massachusetts Biotechnology Council (MassBio), Cambridge, MA, USA;  RTI International, Research Triangle Park, NC, USA; and Wellcome Trust, London, UK, which is also a CARB-X funding partner.
The content of this news release is supported by the Cooperative Agreement Number IDSEP160030 from ASPR/BARDA and by awards from Wellcome Trust, the Global AMR Innovation Fund (GAMRIF) funded by the UK Government Department of Health and Social Care (DHSC), and the Bill & Melinda Gates Foundation, as administrated by CARB-X. The content is solely the responsibility of the authors and does not necessarily represent the official views of the Department of Health and Human Services Office of the Assistant Secretary for Preparedness and Response, other funders, or CARB-X.
Tagged