Kean Ocean Grad Inspires with a Bachelor's Degree at 62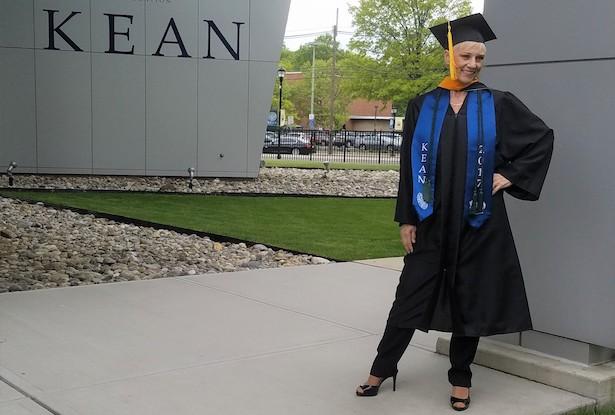 When other people her age were planning their retirements, Margaret Bonafide of Toms River was planning to launch her third career. The 62-year-old Kean Ocean graduate took a big step down that road when she received her bachelor's degree in psychology on Thursday, May 18 as part of Kean University's Class of 2017.
"Even though I was coming up on 60 years old, I saw an opportunity to go back and get what I always wanted – a bachelor's degree," said Bonafide. "I wanted to continue to do purposeful work."
Before turning to psychology, Bonafide worked as an electronics technician, and then after getting an associate degree at Ocean County College, as a journalist for more than 20 years in Ocean County. She ended her career at Gannett, writing for the Asbury Park Press and USA Today. It was at Gannett that she covered the case of Laurel Hester, a terminally ill Ocean County police lieutenant who successfully fought to have her pension paid to her domestic partner. Because of her reporting, Bonafide appears twice in the Academy Award-winning 2007 documentary Freeheld,  which chronicles Hester's story.
In 2014, Bonafide left journalism and started to think about the next chapter of her life.
"I want to work with people, the people I used to cover," she said. "I don't want to write about them; I want to roll up my sleeves and get in there and help them."
Going back to school was not an easy decision. Bonafide experienced anxiety and panic as she rewrote her personal story at the start of her seventh decade of life. She credits three women at Kean Ocean with encouraging her – Kean psychology professors Jane O'Brien, Ph.D., and Janine Martins-Shannon, Ph.D., and Patti Martino, executive secretary to the president.
"Those three women have been my tripod of support for this career in psychology," said Bonafide. "They are the strength to help me forget about the limits of age. These women have taught me to move forward."
Moving forward is just what Bonafide is doing. Motivated by an internship at the New Jersey Reentry Corporation, working with women returning to society after incarceration, she hopes to find work in the criminal justice system. She also will pursue her master's degree in counseling at Kean Ocean.
"Kean has given me the opportunity to help this population," she said. "My life has moved from telling the stories of the marginalized to working with them and making a positive difference in their lives. That is what Kean has given me."
Bonafide says she is in the best shape of her life at 62, having started endurance sports three years ago. As for Father Time, she says, he can take a hike.
"I don't consider myself a later bloomer, but a perennial. My wonderful life continues to blossom into new journeys, and I am so grateful for every minute," she said. "I am just not going to allow age to restrict my abilities. I don't want to wait and find out that I can live to 95, and spend the next 30 years thinking, 'I should have done that.' What do I have to lose?"
Tagged