Kean Ocean Graduate Started Own Company as a Student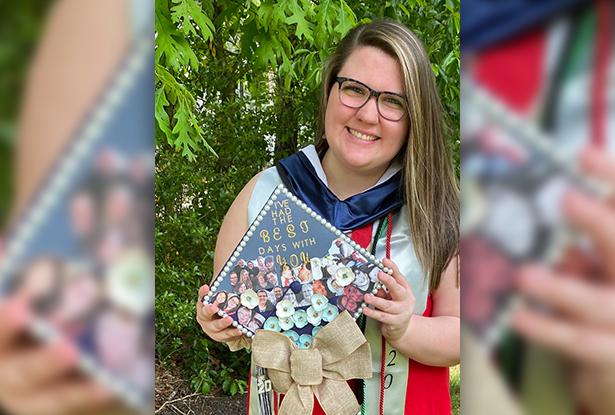 Kean Ocean graduate Kristen Weinbel '20 earned top honors and started her own business as a student, while also dealing with a rare medical condition. 
After attending Donovan Catholic High School in Toms River, the Bayville resident initially didn't plan to attend college in the same town, but she decided to stick close to home because of her battle with primary ciliary dyskinesia (PCD), a condition characterized by chronic respiratory tract infections and other complications. One out of 16,000 babies is born with the condition.
"I knew I wouldn't be like all of my friends who were going away to school," Weinbel said.
At Kean Ocean, Weinbel majored in English and was inspired to add a minor in communication after taking a social media class with School of Communication, Media and Journalism Lecturer Gina Gili. In the class, Weinbel worked with three classmates to create a social media campaign for a local hair salon, Sophia's Roots in Bayville. 
"Kristen was a leader during her group project," Gili said. "She did such a good job, the client reached out to me after the semester was over to hire Kristen to work for her business and run her social media accounts. I can't wait to see where the future takes her."
Her success in the class encouraged Weinbel to start her own social media marketing and digital marketing company, Chronic Hustle Media LLC. She has since hired a part-time employee and six interns to help manage the company's 13 clients.
"Without Professor Gili and Kean University, I would not have gained the skills necessary to become a business owner. I am forever thankful for Kean," Weinbel said.
Weibel said Kean was supportive as she balanced her coursework with challenges from PCD. The condition made her sound as if she had a  "24/7 cold," she said. As a result, she spent many classes piecing together notes she missed when she had to step out of class to tend to her health.
Weinbel also often experienced migraine headaches and had to miss class for an ear surgery and doctor appointments. 
Through it all, Weinbel said her strong Catholic faith kept her going. She graduated summa cum laude with a 3.9 GPA. 
She said she hopes her story inspires others, especially those with PCD.
"Listen to your body, take care of your body, but above all else, listen to the voice inside of you that says, 'You can do anything.' That's what will get you through every single one of your hardest days," she said.