Kean to Offer Courses at Brookdale Community College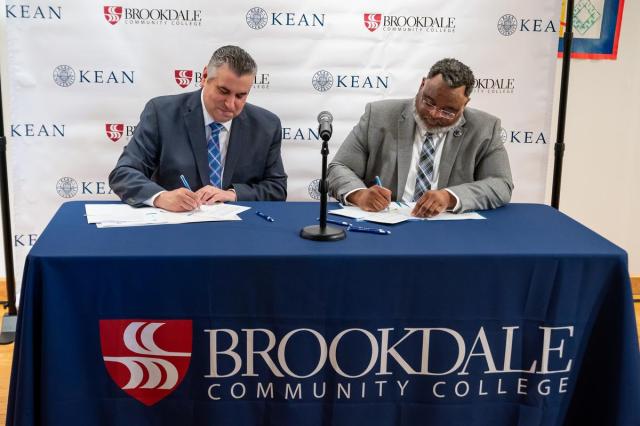 Kean University will begin offering courses on the main campus of Brookdale Community College in Lincroft beginning in Fall 2023 under a new partnership between the two institutions that will expand educational offerings for students in Monmouth County.
Under the agreement approved by both governing boards, Kean will start by offering psychology courses with plans in place to expand the degree-completion offerings in the coming years.
"Through this new agreement, we are thrilled to strengthen our partnership with Kean University," stated David M. Stout, Ph.D., president of Brookdale. "This collaboration not only enhances opportunities for our students now but also demonstrates our ongoing commitment to empowering them for future success in their educational journey." 
"Kean is so pleased to be able to extend our footprint further into Monmouth County and provide additional opportunities for students to climb higher and earn their bachelor's degrees," said Lamont O. Repollet, Ed.D., president of Kean. "This partnership will benefit students from a range of backgrounds by making a four-year degree more accessible."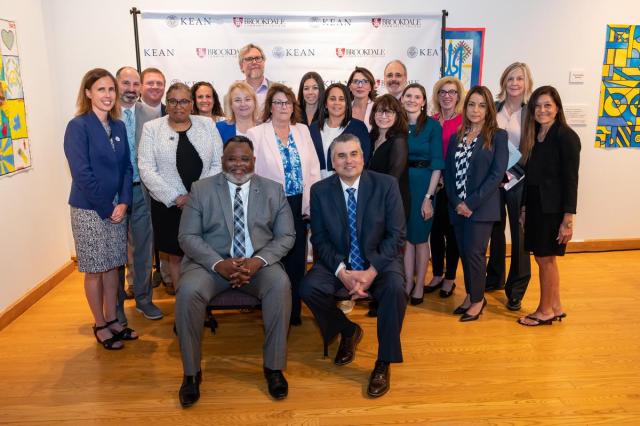 Senior administrators from Kean and Brookdale celebrated the newly expanded partnership at a signing ceremony on the Lincroft campus on Thursday, May 25.
Kean will occupy two dedicated classrooms and two specialized advising offices at Brookdale's Lincroft campus. Students will be able to register for online and in-person psychology classes to work toward earning their bachelor's degree in psychology.
Kean plans to expand to other course offerings across a range of subjects in the coming years.
The partnership builds on an agreement signed by the two institutions in 2021 that established a seamless program-to-program direct transfer process to Kean for students who graduated from Brookdale with one of 13 different associate degrees. 
Under that agreement, which remains in effect, freshman applicants who apply to Kean University but are denied direct admission and reside in the County of Monmouth are guaranteed admission to Kean once they complete their associate degree from Brookdale.
"Kean is proud to be nationally recognized as a transfer-friendly institution and these types of partnerships are key to advancing opportunities for transfer students," said Michael Salvatore, Ph.D., senior vice president for administration at Kean. "We want the transfer process to be as smooth as possible so students can focus on achieving their goal of earning a four-year degree."
Tagged