Kean-produced Historical Virtual Reality Film Wins International Award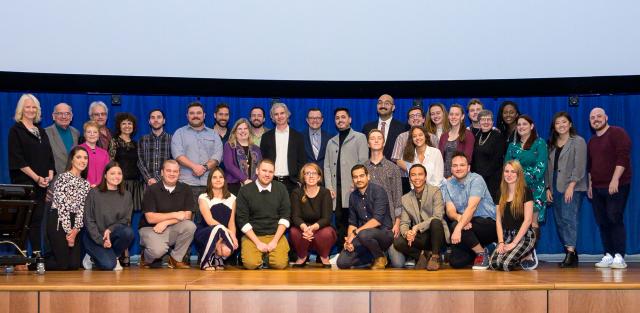 Liberty Hall 360: Revolutionary Wedding, a short film written and produced by Kean University history, design, communication and theatre students, was recently awarded top honors at the international 2019 MarCom Awards. 
The film, which was produced in both widescreen and 360-degree virtual reality formats, received the Platinum award in the category of Digital Video Creation: Virtual/Augmented/Mixed Reality. 
"I am thrilled to have been a part of a collaboration with students that conveys history to new audiences through an emerging medium," said Jonathan Mercantini, Ph.D., dean of the College of Liberal Arts at Kean.
The 25-minute short film was shot in the historic Liberty Hall Museum, where New Jersey's first governor, William Livingston, hosted the wedding of his daughter, Sarah, to John Jay, the future founding father and first chief justice of the Supreme Court, in 1774. 
The wedding occurred in the months after the Boston Tea Party, when guests from both sides, revolutionaries and loyalists alike, gathered for the occasion. The film puts viewers in the perspective of Lucius, an adventurous child who roams around the well-appointed manor and grounds catching a glimpse of the pomp and politics of the celebratory day. 
The Liberty Hall 360 project was written and produced by Kean students under the guidance and supervision of Mercantini, Prof. Ed Johnston and Prof. Henry Stankiewicz of Kean's Robert Busch School of Design in the Michael Graves College, Department of History Chairwoman Prof. Elizabeth Hyde, Ph.D., William Schroh Jr. and Rachael Goldberg of the Liberty Hall Museum, and the University's Director of Digital Media Production Emmanuel Vozos. The project was directed by Johnston and Vozos with a cast and crew of students, alumni, faculty, staff and neighbors of Kean.
"It cannot be understated how collaborative the Liberty Hall 360 project has been," Johnston said. "In it, the history of Kean, of New Jersey and of this country meets the talent, drive and resources of today to create something that represents past, present and, through powerful new storytelling technology, future." 
MarCom judges are industry professionals who look for work that serves as a benchmark for the industry. About 17 percent of the more than 6,500 entries from 20 countries submitted to the 2019 competition earned a Platinum award. Liberty Hall 360: Revolutionary Wedding is one of only eight entries to earn platinum honors in the virtual reality category, which recognizes excellence in quality, creativity and resourcefulness.
"The cast and crew are made up of a diverse roster of talents that bring a sense of life and timeliness to the story, especially when paired with the immersive virtual reality technology," Vozos said. "For audiences and museum-goers, Liberty Hall 360 isn't just a film, it's a time machine."
The film is available to view in both formats at www.libertyhall360.com.