Kean Professor Shares Expertise with Nonprofits Worldwide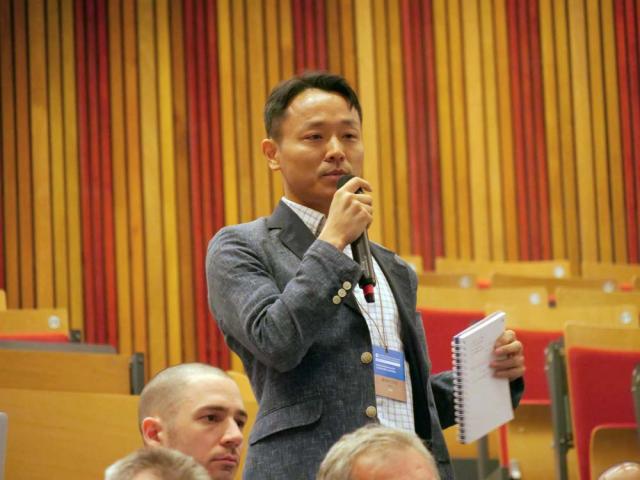 Kean University Assistant Professor Bok Jeong, Ph.D., offered guidance to nonprofit organizations around the globe in a set of online lectures designed to help nonprofits build and sustain effective operations. 
Jeong, who teaches in the Department of Public Administration, spoke to scholars, practitioners and students in South Korea and New Jersey about the role that stakeholders, accountability and mission play in the success of nonprofits. 
"Nonprofits affect our everyday lives as well as during emergency situations for the community. All members in the society, including Kean students, benefit from the work of various nonprofits," he said. "Nonprofits' services make up for the lack of services provided by government agencies and private companies. For example, disaster relief services and health-related emergency medical services under the current coronavirus outbreak are significantly boosted by nonprofits such as the American Red Cross and the Salvation Army." 
With some 1.4 million nonprofits operating in the United States, he said they are also a source of job opportunities for many Kean graduates. 
"Nonprofit sectors serve as a resource for students to search for jobs or volunteer their service in a community. Therefore, it is important to understand the history of a respective society's nonprofit sector, as well as the mission and activities of respective nonprofit organizations," he said. 
Jeong gave a virtual lecture in South Korea as part of the Beautiful Foundation Scholarly Colloquium on February 27. Earlier, on December 4, he gave a lecture for The New Jersey Center for Nonprofits, a coalition that brings together service and advocacy groups to discuss best practices and learn professional skills for effective and sustainable nonprofit operation. 
The Beautiful Foundation is a nonprofit volunteer organization in South Korea, whose goal is to spread a mature philanthropic culture in the community and further public-benefit activities in South Korea. Founded in 1999, it has a global reputation for its activities and research. Jeong currently serves as one of the advisory committee members. 
In speaking to the colloquium, Jeong focused on the accountability of South Korean nonprofit organizations and the stakeholder environment. 
He also gave non-profit practitioners the opportunity to learn how to connect their organizational mission and vision to their accountability obligations. By creating a long-term vision aligned with driving forces in society, he said, they can gain perspective beyond everyday routine practices and improve strategic planning. 
Jeong said that any time he has the opportunity to lecture online to nonprofits around the world, he brings his experiences back to the classroom. 
"Students, especially, get to understand the global society and its diversity better, by comparing the nonprofit sector's origin, growth and contributions in the west and east of the globe," he said. 
Kean students also gain first-hand experience with nonprofits through their studies. The Department of Public Administration requires students to take a capstone seminar class, in which they work on consultancy-type projects with actual partners in the public, nonprofit and health administration fields. 
"Taking part in such projects will help public administration and nonprofit management students to observe the real practices of nonprofits focused on diversity and inclusion values," he said.