Kean Receives Accreditation for New Master's Program in Genetic Counseling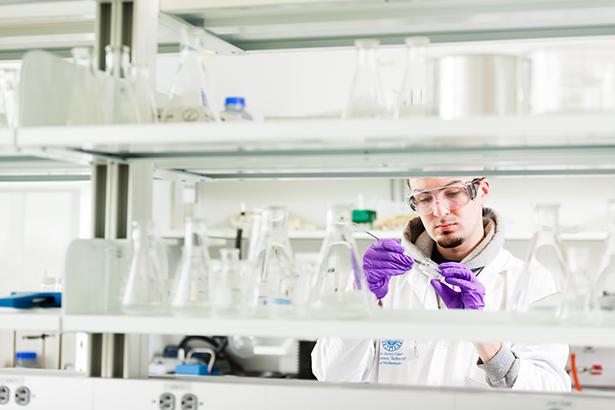 Kean University has received accreditation for a new graduate program in genetic counseling, paving the way for students to begin coursework in Fall 2020.
The Master of Science in Genetic Counseling will be offered through the New Jersey Center for Science, Technology and Mathematics (NJCSTM) at Kean. The program is expected to start with a cohort of six students and grow gradually in future years. It is one of only 46 genetic counseling programs in the nation.
Following receipt of accreditation from the Accreditation Council for Genetic Counseling (ACGC), the Kean program will begin accepting applications soon, said Jill Fischer, the program's director. 
"We are thrilled to be granted accreditation by the ACGC. We have designed a forward-thinking rigorous course of study which will prepare each student for the ever-changing profession of genetic counseling," Fischer said. "Being granted accreditation demonstrates the ACGC's support of our curricular design and our program." 
NJCSTM began building the program at Kean in 2018. The 65-credit, five-semester program will include three main educational components - classroom learning; research; and clinical training during which students work with patients. Students will take classes in medical genetics, counseling skills, ethics, developmental biology and more. Counseling courses will be offered in partnership with the Department of Counselor Education at Kean's Nathan Weiss Graduate College. Medical genetics courses will be taught by Helio Pedro, M.D., section chief of Genetics and Genomics at Hackensack Meridian Health.  Dr. Pedro is the medical director of Kean's genetic counseling graduate program and will serve as an administrator and instructor, research mentor, and advisory board member.
"Kean is committed to creating academic programs in fields that are in high demand today and into the future," said Kean President Dawood Farahi, Ph.D. "This genetic counseling program offers students an opportunity to prepare for an exciting healthcare career in a field that is growing across New Jersey and beyond."
The addition of the genetic counseling program at Kean will expand NJCSTM's graduate offerings to a total of eight programs and will serve as a bridge between hard science and allied health. 
"The genetic counseling program is a natural outgrowth of what we do here in Kean's STEM honors program," said Keith Bostian, Ph.D., dean of NJCSTM. "We are training students to be outstanding scientists, researchers, educators and healthcare professionals."
Fischer has worked as a genetic counselor for more than 26 years, specializing in the area of assisted reproductive technology, specifically preimplantation genetic testing. She said genetic counselors work in preconception and prenatal care; pediatric and adult medicine; and cancer care.  Genetic counselors are playing an increasing role in specialties such as neurology, cardiology, psychiatry, pharmacogenomics and precision medicine. The demand for genetic counselors is growing, she said.
"The role of the genetic counselor has greatly expanded since I was in graduate school," Fischer said. "More and more people are starting to realize how important genetic counselors are. The bottom line is, genetic counselors have the skill set to understand complex medical and scientific information and the ability to communicate that information. With that in mind, there are no boundaries as to what a genetic counselor can do."
Applicants must apply to Kean and register for the National Matching Service. For more information, visit the program website at https://www.kean.edu/academics/programs/genetic-counseling-ms