Kean Receives Historic Gift from Retired Professor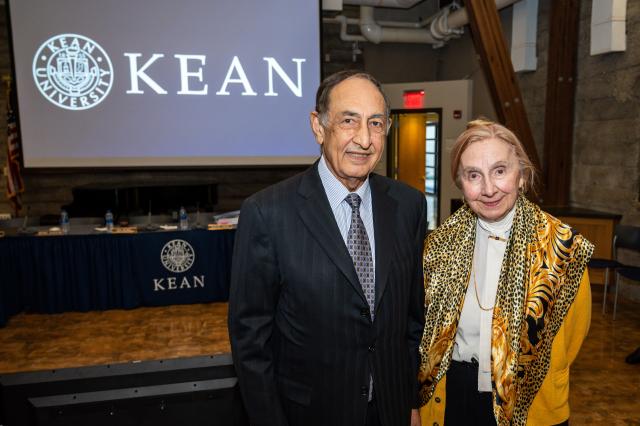 Distinguished Professor Emerita Dorothy Grant Hennings, Ed.D. 'H10 recently made a historic gift to Kean University, where she and her late husband taught for a combined 63 years.
The gift, which is the largest in the University's history, will fund a scholarship named in honor of biology Professor Emeritus George Hennings, Ed.D. 'H10 that will support students pursuing degrees in science and science education as well as the Centennial Fund Opportunity Scholarship that is open to high-achieving, low-income students from all majors.
In recognition of the generous donation, Kean's science college will be renamed The Dorothy and George Hennings College of Science, Mathematics and Technology; Kean's Science Building will be renamed George Hennings Hall; and Room 128 in that building will have signage noting it was George Hennings' office when he worked at Kean. In addition, the new wing of the science building currently under construction will be named George Hennings Research.
Also as a result of the historic gift, the education building, currently called Hennings Hall, will be renamed Dorothy Grant Hennings Hall. In a tribute to the devotion that Dorothy and George Hennings had to each other and to Kean, the walkway that connects the renamed buildings will be named Dorothy and George Way.
"Dorothy and George Hennings had a passion for education and a commitment to excellence," said Kean President Dawood Farahi, Ph.D. "We are profoundly grateful that they chose to dedicate their tremendous gifts, energies and talents to Kean and its students. This gift will be used to build on their already significant legacy, and all of us at Kean thank Dorothy for it."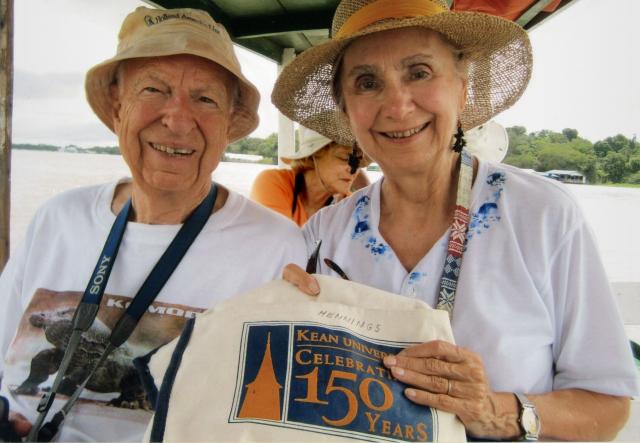 The Hennings received honorary degrees from Kean in 2010 and were awarded Kean's inaugural William Livingston Award in 2013 for their contributions to the promotion of excellence in education, solid business values, and outstanding public service to enhance and build a better society. George Hennings died in September 2016, and Dorothy has continued their support for Kean.
"The love that the Hennings have shown for Kean University is evident in this generous donation," said William H. Miller, chief executive officer of the Kean University Foundation, Kean's primary fundraising and gift-receiving organization. "Generations of students will benefit from their unwavering philanthropy."
George and Dorothy Hennings met at Kean in 1965 and were married three years later. They were partners in everything – sharing a dedication to the development of skilled teachers and, in their personal lives, a love of travel and charitable giving. Through it all, they were connected to Kean, a place that Dorothy once said "we call our own."
At its meeting on Monday, March 9, the Kean Board of Trustees approved a resolution thanking Dorothy Hennings and renaming the buildings. Hennings was there and offered her own thanks for the honor given to her late husband.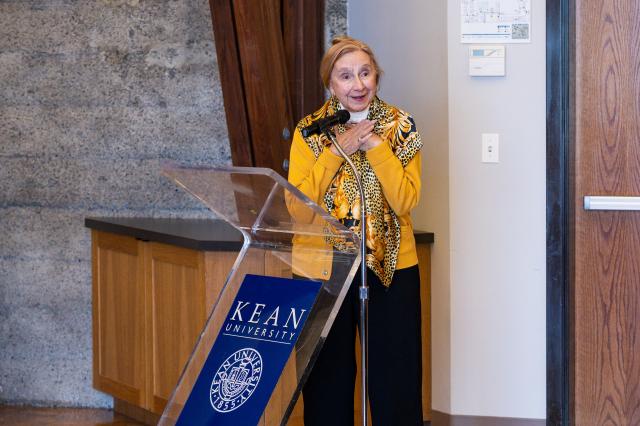 "It's the best birthday present that you are giving me," she told the board, days before her 85th birthday.
After they retired from Kean, the Hennings traveled the world — visiting all seven continents together among many other adventures — and always took Kean along with them. Wherever they went, they took a photo holding a Kean University tote bag and would always promote the University to their fellow travelers.
"Dorothy and George Hennings represent the best of Kean," said George Chang, Ph.D., dean of The Dorothy and George Hennings College of Science, Mathematics and Technology. "It is my hope that this donation helps support students who are similarly engaged in learning and helping others. It is a phenomenal gift."
At Kean, Dorothy Grant Hennings taught in the Department of Instruction, Curriculum and Administration from 1965 until she retired in 2001. George Hennings taught in the Department of Biology from 1960 until his retirement in 1987. The couple authored two books together: Keep Earth Clean, Blue and Green (MacMillan, 1977) and Today's Elementary Social Studies (HarperCollins, 1989). They also served as members of the Kean University Foundation Board of Directors.