Kean Recognized for Social Mobility and Ethnic Diversity by U.S. News & World Report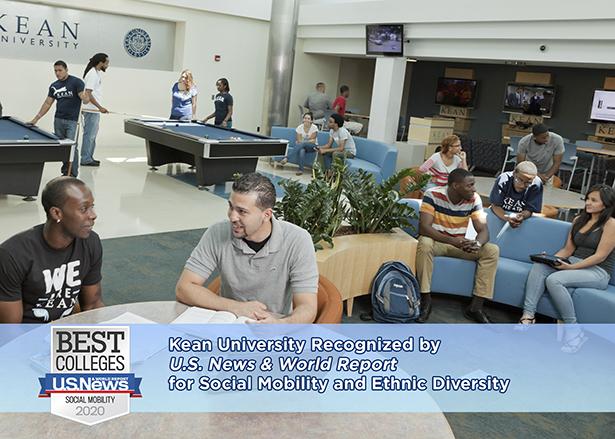 For the second year, U.S. News & World Report has ranked Kean University as a top-performing school for helping economically disadvantaged students succeed and graduate.
Kean was also named among the most ethnically diverse universities in the northern United States, according to a new report released on Monday.
"At Kean, we are here to change the trajectory of students' lives," said Kean President Lamont O. Repollet, Ed.D. "No matter how students enter our University, no matter where they come from, we will take them where they want to be. This recognition from U.S. News & World Report reflects directly on that mission."
Kean is ranked at number 42 for social mobility in the north region, out of 87 universities ranked. The social mobility rankings are calculated by assessing the six-year graduation rates of students who received federal Pell Grants compared with the graduation rate of other students. Those grant recipients generally come from households with annual incomes under $50,000, although there are many factors that contribute to a student's eligibility.
During the 2019-2020 school year, 6,272 Kean students, more than half of Kean USA undergraduates, qualified for a total of $28 million in federal Pell Grant funding.
In addition to the federal grants, Kean offers numerous scholarship opportunities for needy students. The University also provides a host of resources designed to support students once they arrive at Kean, from Supplemental Instruction for challenging courses, to the new Bridge to Success program that orients freshman to Kean. 
"Educating students and setting them on a path upward to a successful life is our goal at Kean," said Ada Morell '97, chair of the Board of Trustees. "Many of our students are the first in their families to go to college, and we are proud to be here to support them and to watch them achieve success."
U.S. News also lists Kean as number nine among regional universities in the northern United States in the 2021 Campus Ethnic Diversity Index, which identifies colleges where students are most likely to encounter undergraduates from racial or ethnic groups different from their own. U.S. News factors in the total proportion of minority students, leaving out international students. 
"As a historically inclusive University, Kean is truly a place that supports students from all racial and ethnic groups on their path to graduation," Repollet said. "Our diversity is one of our greatest strengths."