Kean Research Takes Student from High School to Ph.D. Program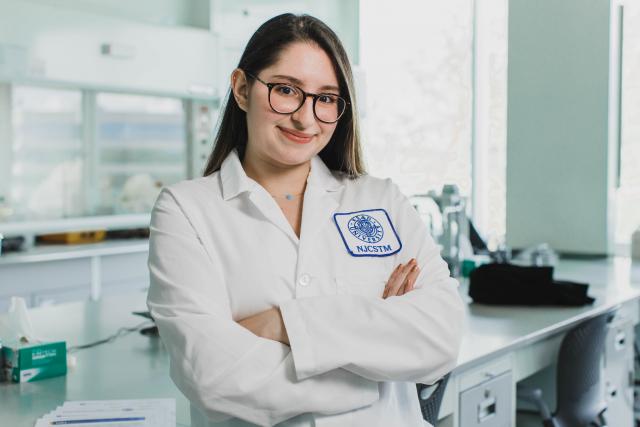 Antoinette Antonucci first stepped into the laboratory at Kean University when she was a high school junior, carpooling with friends after school to work on a cancer research project in the STEM Building. 
Seven years later, after earning her bachelor's degree in biotechnology at Kean in 2020, Antonucci is about to receive her master's degree. After graduation, she will pursue her Ph.D. at the University of California, Irvine — one of six prestigious doctoral programs to which she was accepted.
"I have loved research since picking up my first pipette in high school," said Antonucci, of Roselle Park, who worked on several cancer research projects at Kean as well as research into the deadly infection MRSA.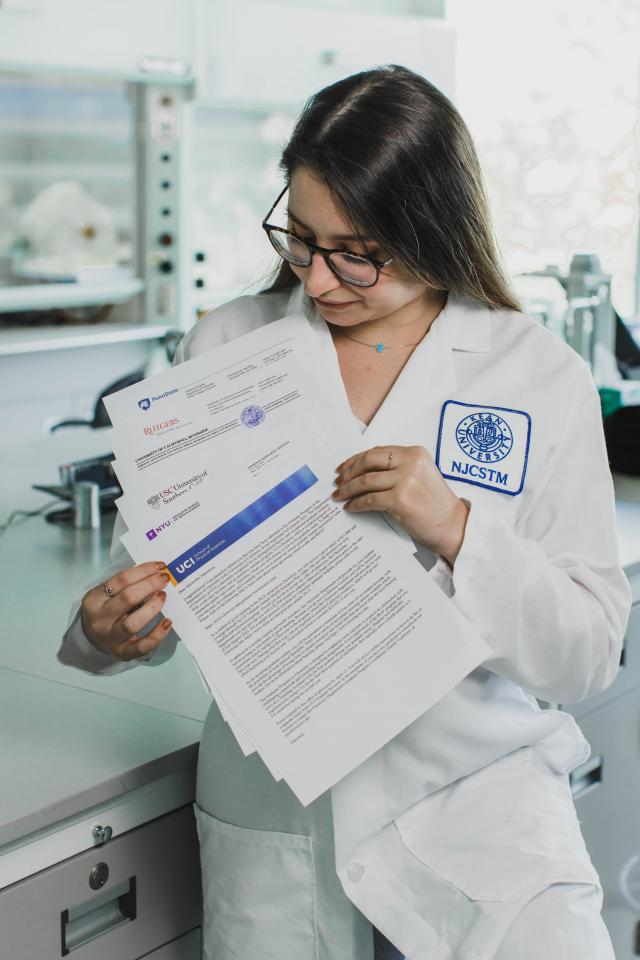 Along with UC Irvine, she was accepted to New York University, the University of Southern California, Penn State, Rutgers and UC Riverside. She will be headed to UC Irvine with full funding and a monthly stipend.
"I enjoy the hands-on aspects of being in the lab and the intellectual challenges of science," she said.  "I enjoy learning about the world around me and using that knowledge to help other people."
Antonucci's research career began when her chemistry teacher at Roselle Park High School arranged with Kean for students to work in the lab after school. Her after-school research was squeezed into a schedule that also included cheerleading practice and band.
She then signed up for the Group Summer Scholars Research Program (GSSRP) for talented high school students offered annually at Kean's New Jersey Center for Science, Technology and Mathematics (NJCSTM). There, she worked with Associate Professor James Merritt, Ph.D., developing compounds to treat the brain cancer glioblastoma.
That experience convinced her to do her undergraduate work at NJCSTM. "I loved how small and family-like the STEM program was at Kean," she said.
She continued doing research through Kean's Research First Initiative, for freshman, then as an upperclassman, graduating with Research Honors. She also landed two internships, one with the Tri-Institutional Chemical Biology Summer Program in New York City, and one with Prokarvotics Inc., in the Institute for Life Science Entrepreneurship at Kean University.
Merritt described Antonucci as "the most promising student in our master's program at NJCSTM," and someone who exhibits a "level of maturity, general knowledge and hands-on research experience beyond her years."
He said she is also calm, kind-hearted and happy to help others.
"As a researcher and a student, Antoinette is a focused, dedicated, hard worker and clearly passionate about science and research," he said. "I know that anything I assign to her will be done well, and if problems arise she can meet the challenge while maintaining a positive attitude. She is the student I go to first to work on a new project." 
Antonucci, who is one of five children, said her parents do not have a background in science but are very supportive of her work. Her older sister, Danielle, also earned her bachelor's and master's degrees from Kean in biotechnology.
After her Ph.D., Antonucci said she wants to work in the pharmaceutical industry as a medicinal or process chemist. But with five years of study and research ahead, she looks forward to exploring all the ways she can use her passion for research.
"I am keeping my options open and seeing where my Ph.D. will take me. I do not want to count out any opportunities," she said. "What truly draws me to research is the ability to make an impact on the lives of others."
Tagged