Kean Student Pens 'Purrfect' Children's Book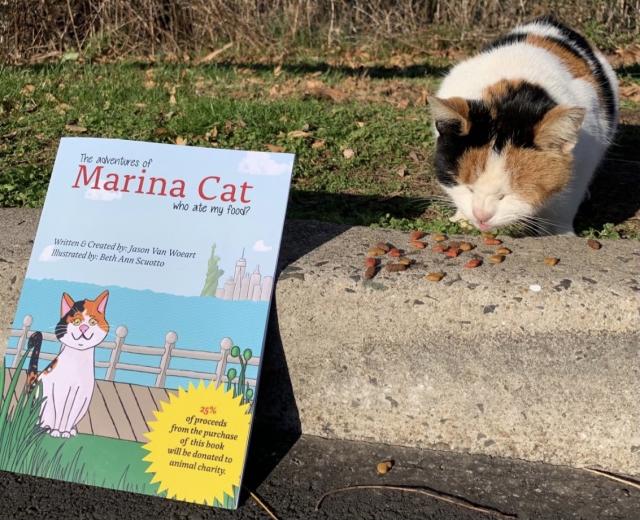 The inspiration for Kean student Jason Van Woeart's first children's book came in the form of a small, stray calico cat named Marina Cat.
Van Woeart, a junior English education major, wrote The Adventures of Marina Cat: who ate my food? after meeting and feeding the feline at a Carteret marina where he has a part-time summer job.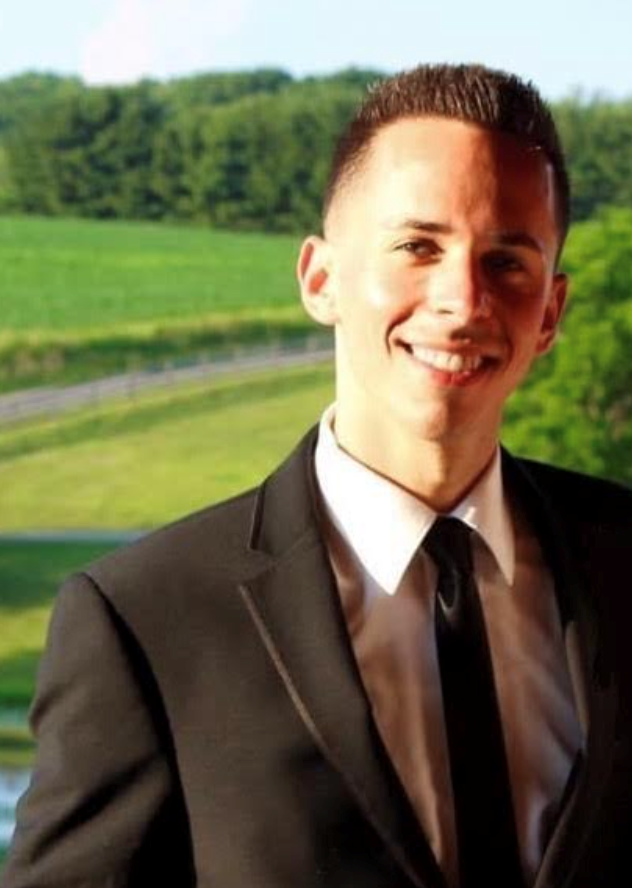 "I discovered Marina in 2018, laying in the grass and taking in all of the action around her," said Van Woeart, of Carteret, who said the marina is a popular place for town concerts, fairs, fishing and jet-skiing.
"I've seen all types of wildlife snacking on her food, which she seems unbothered by," he said. "Skunks, possums, foxes, groundhogs, rabbits, seagulls and raccoons have been seen eating from her bowl, but she always seems happy to share."
In the book, Marina Cat investigates who is eating from her dish, then welcomes the other animals to share her food. 
"I thought it would be a good story to teach children," he said. "The message of the book is never give up, always help others if you are in a position to do so, and always accept those who may look or sound different than yourself."
Van Woeart, whose goal is to teach high school English, was not the first person to feed the cat. An older couple did so for years, he said, and even took the cat into their home, but returned her to marina life when she grew despondent as a house pet. 
The Kean student began writing the book for his nieces and nephew. Writing the story took about a week, he said, then he spent five months working with the illustrator, a friend who is a retired graphic designer.
He self-published the book to avoid the complications of going through the publishing industry. Sales have already covered his costs, he said, and he pledges to donate 25% of his proceeds to animal charities.
"I wanted to really focus on the local heart-warming portion of the story as a selling point," he said, "with a simple and sweet story for young readers."
The book, which sells for $12.99, is available on Amazon in paperback and Kindle format.
Kean Lecturer Eman Arafa, one of Van Woeart's professors, learned of the book when he had to be late to class one day — because he was being interviewed by a local TV station about the book. With his permission, she shared the news and the book with his class. 
"The book is well-structured and very descriptive. In terms of theme, it is perfect, with the theme of inclusion and generosity to others," Arafa said. "Jason is studying to be a teacher, and those are traits we want to see in all of our teachers."
Van Woeart said the book's theme reflects his teaching philosophy.
"I would love to be the type of teacher my students will trust and feel they can be themselves around. My goal is to create a safe learning environment that is judgment free," he said. "I hope to be a teacher that a student can look back at 20 years later and say how I changed their life."
Van Woeart, who said he is humbled by the support he has received, is already planning other books, and said he does not reject the idea of working with a publishing house in the future. 
His second Marina Cat book will be ready in time for Easter, he said, and a third book, which will incorporate LGBT themes, will be available in June 2021 for Pride Month.
Tagged