Kean Students Create the Ultimate Dorm Room with Some Help from IKEA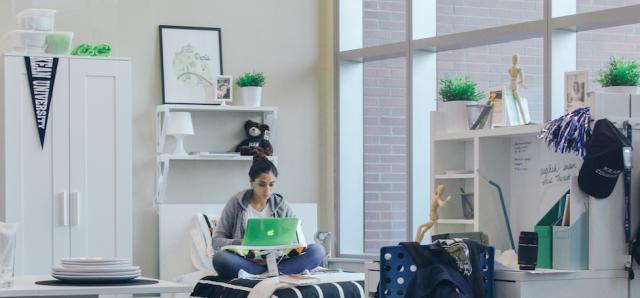 Residence hall life is a highlight of the college experience for many undergraduates, and this fall, Kean University design students are partnering with IKEA of Elizabeth to increase the style and convenience of dorm living. Starting in September, Kean's Green Lane Academic building will house a model dorm room in one of its gallery spaces.  Designed by Kean architecture and design students, utilizing IKEA products and styling, the space is designed to inspire and promote sustainable solutions for small space living. 
"For many college students each year, a dorm becomes their new home.  IKEA, the life improvement store, has smart solutions for small spaces so why not share them with those in our local community, especially students," said Olivia Johnson, Marketing Specialist, IKEA Elizabeth. 
IKEA of Elizabeth hosted a group of architecture and design students from Kean University's Michael Graves College for the Ultimate Dorm Room Challenge on Tuesday, April 26, 2016. The charrette style competition required students to create a functional yet innovative design while also conveying the IKEA aesthetic. Kean students Mac Peters of Wayne, Jasmine White of Linden, Samantha Brennen of Hopewell Junction, Crystal Humphries of Point Pleasant and Catherine Venutolo of Port Reading were awarded first place for their Res-YOU design. Res-YOU's versatile floor plan was designed to maximize space and encourage individuality. Now IKEA and Kean are partnering to bring the student's design concept to life in a temporary installation opening on Thursday, September 1.
During the competition, teams composed of advertising design, graphic design, architecture and interior design students collaborated to create design solutions incorporating storage, work spaces and sleeping areas. In addition to designing a resident hall room, the students were required to create a merchandising and advertising campaign promoting the use of IKEA styling and products. Each team was given four minutes to pitch its concept to a panel of judges that included IKEA personnel and Kean faculty and staff.
"We designed a space that was customizable to make every student feel at home while they are away at school," said Brennen. "Winning the charrette was a huge achievement."
Robert Busch School of Design Executive Director Rose Gonnella observed, "students want to feel as though they are residing, not just occupying a space. For many, resident life provides a critical transitional step from living with one's parents on the pathway to creating a career and a self sufficient life."
Tagged