Kean Students Join the Front Line Against COVID-19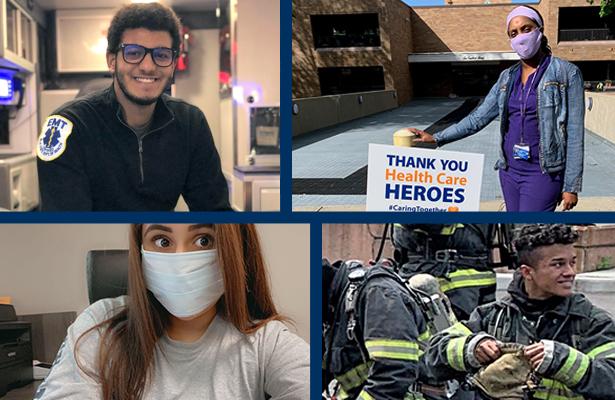 They juggle Kean coursework and answering EMT calls. They work long night shifts in hospitals. And they counsel patients struggling with stress caused by COVID-19.
Kean University students are on the front line of the COVID-19 pandemic in New Jersey, caring for patients and helping their communities. Here are some of their stories.
Mouaaz Hassan
Kean sophomore Mouaaz Hassan of Newton, who plans to major in business, became a volunteer EMT with the Newton First Aid Squad after a friend was in a serious car accident a few years ago. As COVID-19 hit, he began putting in 30 to 40 hours a week volunteering, sometimes stepping away from online classes in progress, or turning in homework late to do so.
Hassan and his crew transport patients to hospital emergency rooms via ambulance. They check vital signs, stabilize patients and give oxygen. The work is rewarding, he said, but a challenge.
"The first patient who died in Sussex County as a result of COVID-19 was my patient. I remember everything about that call," he said. "What really got to me, I guess, was seeing her say goodbye to her husband and child. I will never forget the look in her eyes as she was getting ready to go to the hospital. Around nightfall my patient would be the first person lost to the virus.
"You cannot let it get to you. Sometimes it's just not that easy, though," said Hassan, whose career goals include involving the medical field. "Whatever the situation is, I'll still put my uniform on and help anyone in need."
Shanayah Miles
Shanayah Miles, a freshman sociology major minoring in Africana Studies, began her studies at Kean 20 years after graduating high school, and after her own daughters graduated college. The mom of three, from Summit, is also a radiologist assistant at Overlook Hospital.
When COVID-19 struck, she was reassigned to floors where patients with the virus are treated. Miles does screening and takes temperatures of people entering the area. She cleans on the COVID floors and does other work. She puts in long night shifts.
"It gives me pleasure to help people during this crisis," she said. "Though I am not the one saving lives, I think any little thing I can do to help patients contributes to their safety. Any time I get to help a patient, I feel a sense of pride."
Miles worried at first she might bring the virus home, but she developed a system to disinfect herself after leaving the hospital and feels comfortable that her preventive measures are protecting her and her family. The hospital has many safety protocols in place and more than enough PPE equipment, including individually fitted N95 masks, she said.
Her work has also helped set her career goal — becoming a social worker or patient advocate.  "I love working at the hospital. I love interacting with patients and helping them," she said. "I feel this is my passion." 
Edward Diaz
You could say helping people is in Eddy Diaz' blood.
The Kean rising senior, a marketing major and former resident assistant, is the son of a career firefighter, has family members who are police officers and paramedics, and is a volunteer firefighter in his hometown of Hasbrouck Heights.
"I was bred in a culture where sacrificing your own sense of self-preservation to help your common man was the norm," he said.
As a first responder, Diaz goes to fire scenes, car accidents and ambulance calls. He drives the ambulance, checks patients' vital signs and transports them to the hospital. While living at Kean, he volunteered weekends only — school always came first. During remote learning, he attended remote lectures from the firehouse, sometimes rushing out to a call.
"We roll into some pretty unknown spaces. We never know if COVID-19 lurks in a house or not," he said. "I have seen family members watch as a COVID-positive relative is carried out, and that is the last they will see of them. But the brother/sisterhood of first responders helps as a therapeutic outlet. Working with near-death patients helps remind me to cherish the moments we have in life. It puts things into perspective."
Others can support front line workers, Diaz said.
"If you can donate to your local firehouse, even the smallest gestures can lift morale. If it is a volunteer organization, consider joining as a member," he said. "Even the smallest spark of thoughtfulness goes a very long way."
Bridgette Devlin
Kean grad student Bridgette Devlin will complete her master's degree in forensic psychology this fall. She also works full-time as a behavior analyst at Abby Road Psychiatric in Red Bank.
"A great many of our current clients have been impacted by COVID-19, many suffering higher rates of anxiety and stress," said Devlin, who is from Media, Pennsylvania. "You could call these invisible effects of the virus."
Devlin assesses and supports clients through telehealth. She offers resources for such needs as applying for unemployment, finding food and phone services and creating exercise plans. 
Her clients' stress stems not only from the fear of the virus itself, she said, but from the impact of COVID-19 — deaths of loved ones, the lack of human interaction and loss of security.
"Helping people at this time is something I find joy in," she said. "There is not one easy way to get through all of this, but many little things can help you cope. Just stepping back to take a break can help. Meditating, reading a book or taking a walk, even just taking a shower can help reset your mood.
"I feel many people don't see mental health services as 'essential' during these times" Devlin said, "but with the effect COVID-19 has had, in my opinion, they might be among the most essential."